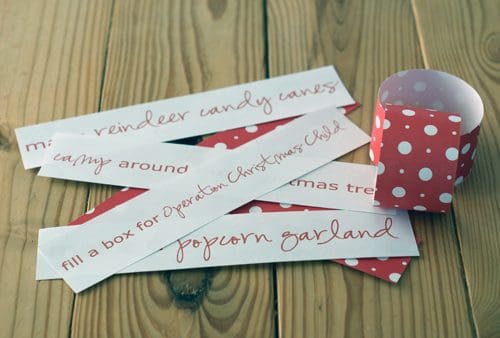 One of our favorite ways to countdown the days until a special date is with a countdown chain, where you tear off one loop each day, watching the chain get shorter and shorter each day.
I've combined that idea with a list of advent activities that you can print out on the back of scrapbook paper to make an advent chain!
Because you don't want to get caught by surprise with "decorate your Christmas tree" or "make handmade ornaments", I suggest using the Christmas calendar to plan out your advent activities and then creating your chain based on that order. There are 32 activity strips included, and you'll only need 24 if you start on December 1st, so you can pick and choose the ones you want, add your own activities to the blank strips or even use a combination of blank strips and activities so that you're not doing something every day — whatever works best for your family!
Click here to print the advent chain.
Join us as we celebrate 101 Days of Christmas with new DIY projects, gift ideas, traditions and more every day from now through Christmas!
Mandi Ehman is the founder and publisher behind Life Your Way as well as a wife and homeschooling mom to four beautiful girls. She lives with her family on a little slice of heaven in wild, wonderful West Virginia and loves coffee, chocolate, easy meals, beautiful things and minimalist spaces.