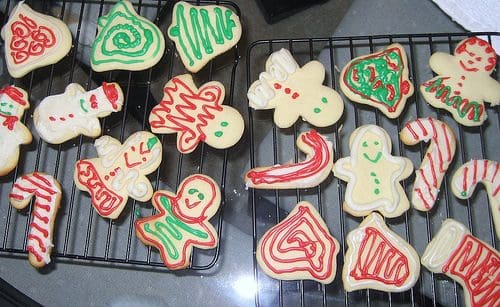 A friend of ours makes the most beautiful and delicious sugar cookies. We look forward to the tin of cookies she sends every year (no pressure, Kim!) and carefully divide them between us. We might share a bite or two with the girls too…maybe!
Although I do not have any cookie decorating skills, the great thing about sugar cookies is that there are so many different ways to decorate them. It's a versatile cookie that becomes the base for a dozen different varieties.
Last week I shared my favorite sugar cookie recipe and showed you pictures of our cookie press cookies. Today I'm sharing more ideas for decorating sugar cookies:
decorate with candy, sprinkles or dried fruit before baking
create edible paint by mixing egg yolk and food dye and paint designs on your cookies before baking
pipe designs from icing on the baked cookies
spread icing across the entire cookie, similar to the way we decorated these chai tea cookies
spread icing on cookie and then add sprinkles, candy or dried fruit to the icing
create a sandwich cookie with icing, jelly, Nutella (!) or another filling between the halves
decorate with melted chocolate
create a glaze by thinning your icing and drizzling or spreading it on the cookie
What other decorating ideas would you add to this list?
Join us as we celebrate 101 Days of Christmas with new DIY projects, gift ideas, traditions and more every day from now through Christmas!