The following post is from Kristina of Toddler Approved: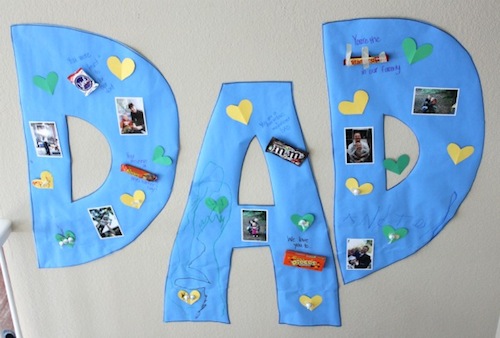 Father's Day is approaching quickly! Have you decided what you're doing/getting for the wonderful fathers in your life?
As a mom, I am always trying to think of thoughtful and inexpensive gifts that my kids can give their dad and grandpa for Father's Day.
Today I am going to share three quick and crafty ideas that your kids can easily help create for their dads, grandpas, or any other special father figures in their lives.
1. Giant Father's Day Candy Gram
This is a simple activity that can take a few minutes or a few hours, depending on how much time your kids want to put into it.
Materials Needed: large butcher paper/bulletin board paper/ poster board, markers, lots of painter's tape, candy, photos, and colored construction paper.
Instructions:
Write the letters "dad" on a large piece of paper and cut them out.
Tape them to the wall (our letters were taller than my kids).
Start decorating and creating! We used photos, colored paper, and markers to decorate the letters.
Purchase some of dad's favorite candy, stick them on the posters, and write silly candy gram sayings. Some of ours were, "You were 'mint' to be our dad" (peppermint patty), "We love you to 'pieces'!" (Reeses Pieces), "You deserve a 'break' this Father's Day!" (Reeses Fast Break), "You are the 'star' of our family" (Starburst), "We love being your 'kids'!" (Sour Patch Kids).
2. Fathers' Day Activity Jar
We love activity gifts and gifts of time at our house… since quality time as a family is really hard to find in the busyness of life sometimes. This jar is filled with slips of paper that each have an activity written on them that my husband and son can do together.
Materials Needed: large jar, scrapbook paper, tape, scissors or paper cutter, markers, and stickers
My son decorated the jar with stickers, we added a label, and then we covered the jar lid with scrapbook paper and taped the paper onto the lid.
These are a few of the things my son came up with to write on the slips of paper inside the jar (with occasional prompts from me):
Do egg rolls at the pool
Make volcanoes with play-doh
Play hide and tickle (our tickle version of hide and seek, once you're found, you get tickled)
Watch The Lion King and eat popcorn
Go to the reservoir and chase dogs
Feed the ducks at the park
Make ebelskivers for breakfast
Play swimming pool scrabble
Jump in the ball pit at Google (where my husband works)
Go disco bowling
We mostly focused on activities that we could do for little or no money. The plan for using this activity jar is to set aside a few specific time periods each week where they can pick an activity and spend time together.
3. Father's Day Tie Bag Scavenger Hunt
My son loves scavenger hunts. We did one earlier this year to help him learn about the rules and expectations of preschool and I also did one for his birthday with all of his presents. Since they are becoming a family tradition, we decided to do a Father's Day version.
Materials Needed: colorful bags, number stickers, card stock with this tie template printed on it, markers, scissors, tape, and gift items (see below for examples).
Instructions:
Print out the ties onto card stock and cut them out.
Decorate the ties with markers, stickers, paint, etc.
Adhere them to the bags.
Label each bag with a number (you can use stickers).
Fill each bag with gift items and then hide them around the house.
Create clues to direct dad to the different bags (see example below).
Each tie bag that we created was inspired by a different member of the family. We created four bags so that each family member had a simple gift for dad. Each gift contained the items for that individual and dad to have a special "date." Here are some examples of what we put in each bag;
Bag #1 (daddy/daughter date with the 18-month-old):
Snack: Several Scooby-Doo fruit snacks (for dad and daughter)
Drink: Water bottles and apple juice
Map to a local playground with a dog park and splash pad
Swimming suit and towel (for daughter, one she already owns)
There is nothing better than watching my 18-month-old daughter play with dogs and visit them at the local dog park. She is also obsessed with the water features at our local park. My husband loves watching how happy she is with the dogs and in the water… so what a perfect date, right?
Bag #2 (father/son date with the 4-year-old)
Drink: Water bottles and raspberry lemonade
Snack: Swedish fish, goldfish crackers, and sour patch kids
Stomp rockets (cheap at a local toy store)
Foam water blaster gun
Swimsuits and towels (for both father and son)
Pool key
(a few of these items might not fit inside the bag, but you could hide them right underneath)
Launching rockets in the neighborhood park and then swimming in the pool and shooting foam water blaster guns is an activity that both my son and husband love… so this is the perfect date for them!
I also created a date night bag from me and one from our new addition (Baby #3 that is arriving in November). Each bag had a clue inside leading dad to the next bag.
The first clue said: "She loves to read books here when the day is done, go to that spot and find clue number one." (rocker chair in my daughter's room)
The next one said, "He runs, jumps, and plays baseball here too, go to that spot and find clue number two." (backyard by baseball stuff)
The scavenger hunt was as much fun for my kids as it was for my husband. I loved that it was an activity that we could do together and the presents allowed us all to have more time having fun with dad too!
What sort of gifts do you like to give to the special dads in your life for Father's Day? Do you buy expensive presents or try and create inexpensive or homemade gifts?
Featured Image by freestocks-photos from Pixabay
Kristina is a mom of 2 and a former Special Ed teacher for children with communication disabilities. She blogs at Toddler Approved as she looks for ways to make life a little more fun and creative with her kids while embedding learning into everything that she does. Kristina tweets as @ToddlerApproved and can be found on FB and Pinterest.