This month I am participating in the 30 Day Giving Challenge, with lots of fun giveaways to encourage you to give along the way!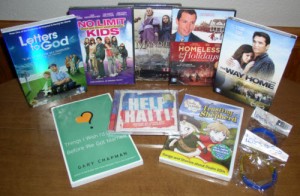 **This giveaway is now closed.** Congratulations Elizabeth ([email protected]…)!
We love family movie night, but these days you never quite know what you're getting when you pick up a movie from Redbox, and I hate being surprised by an inappropriate scene, whether I'm watching a movie with my girls or with my parents!
Today's sponsor is a collection of studio and publishing groups striving to make a difference with family-friendly media, including:
Things I Wish I'd Known Before We Got Married book by Gary Chapman
https://www.imdb.com/title/tt1252507/ (starring Dean Cain)
Letters to God DVD
Mandie and the Cherokee Treasure DVD
No Limit Kids DVD
Trusting in the Shepherd (Really Woolly Kids) DVD
Help Haiti CD
As part of the 30 Day Giving Challenge, I will be donating DVDs that we received to a local children's home and the book and CD to our church's library
One Life Your Way reader will also win an identical package to keep or giveaway!
Enter to Win
Every reader has three methods available to enter this contest:
1. Leave a comment. What is your favorite family movie or story?
2. Subscribe to Life Your Way by email or in a feed reader. You must confirm your email subscription for it to be a valid entry! Leave a separate comment letting me know you have done so. If you're already a subscriber, simply leave a separate comment letting me know you're already subscribed.
3. Browse through the links to the books, DVDs, and CD. Leave a separate comment about which one you'd most like to see.
Prize:
(1) family movie night prize package, as described above
This giveaway ends at 9pm ET on Sunday 11/21. The winner will be selected randomly and notified by email, and this post will be updated with their name as well!
More Chances to Win
Be sure to visit the other bloggers leading the 30-Day Giving Challenge for more chances to win:
My Blessed Life
Kingdom First Mom
Frugal Femina
While Life Your Way is not traditionally a blog about faith, many of our giveaways this month will feature Christian authors or products. This was not done on purpose or to exclude nonbelievers or negate your giving, and I hope you'll still participate in the challenge with us! Read more here.