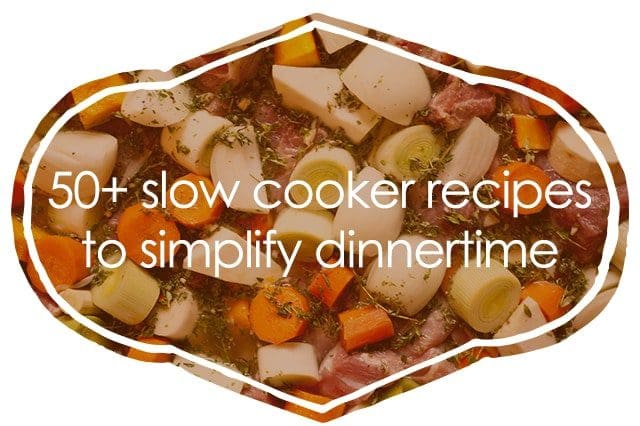 While we seem to have gotten back into our homeschool and work routine in the months since Jackson was born, getting dinner on the table continues to be a struggle since my freezer stash ran out!
The idea of finding time to refill the freezer honestly gives me a panic attack, but I recently pulled my Ninja 3-in-1 back out and began searching for more slow cooker meals, which I had gotten out of the habit of making.
There's so much to love about slow cooker or crock pot meals:
You can assemble the ingredients early, during the time of day when you have more energy and "want to".
Most dishes are one-pot wonders, so you don't have a load of dirty dishes to deal with.
Slow cooker recipes are almost always warm and cozy comfort food.
If you really get your act together, you can fill your freezer with bags of ready-to-go slow cooker meals for an even simpler dinner solution!
I'm happy to report that we've been eating so much better — and trying lots of fun new recipes — in the past two weeks thanks to the slow cooker!
Here is a list of 50 recipes I've added to my meal planning queue so that we don't get stuck eating the same 3 slow cooker meals each week:
Soup & Stew
Moroccan Chicken Stew
Orange Beef Stew
Apple and Split Pea Soup
Chili
 Chicken
 Beef
Flank Steak Fajitas
Cheeseburger Meatloaf
 Pork
Texas Pork Chops
Teriyaki Boston Butt
Spanish Rice with Sausage
Ginger Cranberry Pork Roast
Cheesy Scalloped Potatoes with Ham
BBQ Ribs
Pasta
 Slow Cooker eBooks
For those of you who prefer having your recipes compiled in a cookbook, here are three ebooks that are packed full of delicious recipes:
 What is your favorite slow cooker recipe?
This post contains affiliate links. Thanks for supporting Life Your Way!