This post is brought to you by Kenmore, but all opinions are 100% mine: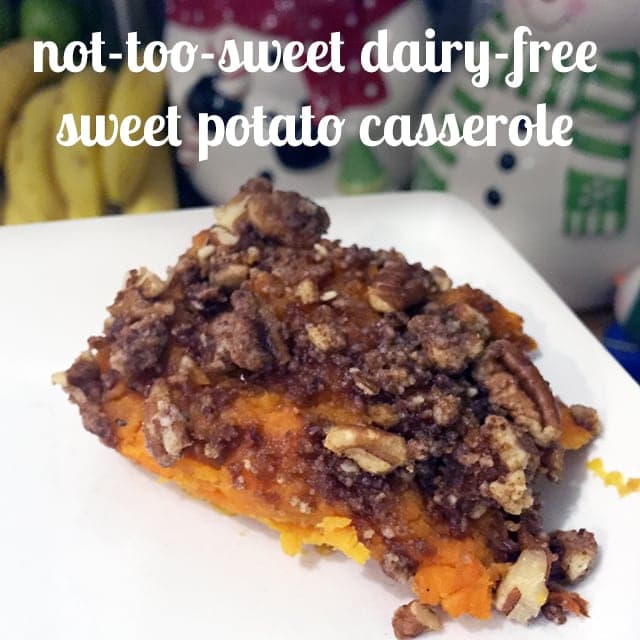 Oh, how tastes change over time.
My idea of a good sweet potato casserole 4 or 5 years ago was one that pretty much tasted like pie for dinner. Since then, however, we've worked hard to reduce the amount of sugar we eat on an everyday basis (although we still enjoy our sweet treats!). And as we've reduced our sugar overall, things like our favorite sweet potato casserole have become too sweet for our taste buds (at least at dinnertime!).
This year, with a nursing baby once again, I also needed to find a dairy-free version of this dish so that I don't have to skip it.
The result is this sweet potato casserole, which tastes less like pie and more like good ol' sweet potatoes!
NOTE: I used ghee in place of butter in my potatoes and the topping because I love its flavor, but coconut oil would work just as well.
Ingredients:
Sweet Potatoes:
6 large sweet potatoes
1/4-1/2 cup brown sugar or coconut sugar
2 eggs, beaten
1/2 cup unsweetened almond milk
1/2 teaspoon salt
1/3 cup ghee or coconut oil, melted
Topping:
1/2 cup packed brown sugar or coconut sugar
1/2 cup all-purpose flour
1/3 cup ghee or coconut oil, melted
1 cup chopped pecans
Directions:
Bake sweet potatoes at 400 degrees for 60-75 minutes until tender.
In 9″ x 13″ baking dish, peel and mash the baked sweet potatoes. Add sugar, eggs, almond milk, salt, and melted ghee or coconut oil. Mix well.
In a separate bowl, mix sugar, flour, melted ghee or coconut oil, and pecans. Crumble mixture evenly over sweet potatoes.
Bake at 350 degrees F for 25 minutes. If you want to add mini marshmallows, bake for an additional 15 minutes until the marshmallows are golden brown.
More dairy-free Thanksgiving recipes:
Green Bean Casserole
Best Pecan Pie Ever
Be the hostess with the mostest with Kenmore Pro appliances!
Cook like a PRO with the new Kenmore PRO line of appliances.
With a sleek design, features that help you cook better, faster and easier, and a focus on value, the Kenmore PRO appliances can take your Thanksgiving meal or holiday party to the next level!
Share your favorite Thanksgiving recipes and holiday tips with @Kenmore on Twitter and @KenmoreAppliances on Instagram with the hashtag #CookLikeaPro.