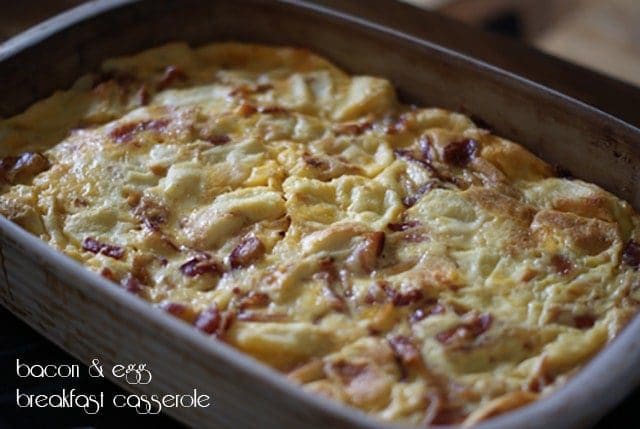 I've shared this recipe before, but it's worth sharing again!
We've tried many different Christmas morning breakfast options over the years, never really finding one we loved…until this one. Now it has been a staple for the past few years (and this year we're adding maple chip biscuits, yum!). It's easy enough that my girls can throw it together, and it can even be put together several days in advance and frozen. Just move it to the fridge the day before you're planning to serve it.
We like this recipe just as it's written, but you could also substitute ham or ground sausage or even add veggies to the mix if you wanted.
Ingredients:
1 pound bacon
8 eggs
2 cups milk
1 teaspoon salt
1 teaspoon ground mustard
6 slices white bread, cut into 1/2-inch cubes
1 cup shredded Cheddar cheese
Directions:
Cook bacon and drain well.
In a large bowl, beat the eggs. Stir in milk, salt, and mustard. Add bread cubes, cheese, and bacon.
Pour in a 9″x13″ baking dish and cover.
Refrigerate overnight.
In the morning, pull the casserole out of the refrigerator and let stand for 30 minutes. Preheat oven to 350 degrees and bake uncovered for 40 minutes.
Click here to add this recipe to your Plan to Eat account.
Join us as we celebrate 101 Days of Christmas with new DIY projects, gift ideas, traditions and more every day from now through Christmas!