Because of our kids' dairy intolerances (which, thankfully, they all seem to eventually outgrow), we've had at least one person in our family on a dairy-free diet for pretty much the past 12 years. Finding dairy-free recipes online has gotten so much easier with the popularity of the paleo diet, and I'm pretty good at making substitutions myself these days, but one of my favorite sources for recipes that avoid all of the top allergens is my friend Kelly at The Pretty Bee.
Kelly's Healthy Make-Ahead Breakfast ebook was in this spring's Ultimate Homemaking Bundle, and I've used it faithfully ever since. But our favorite recipe? Her raspberry baked oatmeal.
We've made some adjustments to it based on the ingredients we regularly have on hand, but it's still one we make at least 1-2 times every week. And if I happen to double the recipe, I'll happily eat it for breakfast, snack, lunch and dinner until it's gone.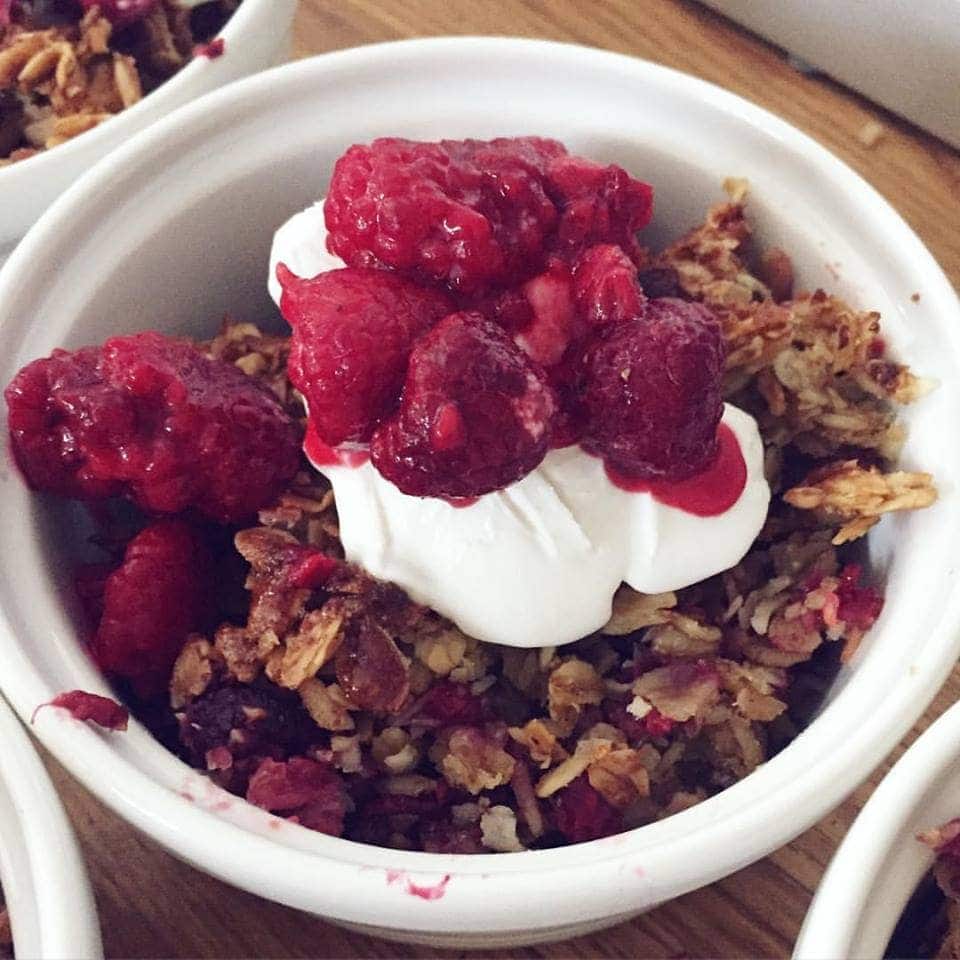 Ingredients
1/2 cup extra light olive oil
1/3 cup coconut sugar, plus extra for sprinkling on top
1 teaspoon vanilla extract
2 eggs
2 cups old-fashioned oats
1 cup shredded unsweetened coconut (bonus points for toasted coconut!)
1 teaspoon baking powder
1/8 teaspoon salt
1-1/2 cups fresh or frozen fruit*
*We've used blueberries, raspberries, strawberries, mixed berries and peaches—it's delicious with any of them!
Directions.
1. Combine oil, sugar, vanilla extract and eggs in a large bowl and stir well.
2. In a separate bowl, mix oats, coconut, baking powder and salt.
3. Combine the wet and dry ingredients. Fold in the fruit.
4. Transfer the mixture to a 9″ x 9″ (ish) dish. Sprinkle with extra coconut sugar.
5. Cover dish and refrigerate until morning.*
6. In the morning, preheat oven to 350 degrees. Bake uncovered for 45 minutes.
7. Serve with coconut, fruit or scoops of thick coconut milk (from a can).
*I will often have the girls make this the night before, but I'm just as likely to throw it together in the morning and bake it immediately because it's so fast!