I've worked really hard this year to make sure that none of our projects are duplicates from last year, but today I make an exception. You see, I've been laid up in bed with the flu since Sunday, and there hasn't been much baking or crafting going on in our home, so I decided to pull out my very favorite Christmas cookie to share with you again instead of stressing about coming up with something new.  Thanks for understanding!
A couple of years ago, I decided to dress up my chocolate crinkle cookies with a candy cane kiss, and the resulting cookie was a hit. In fact, this is the cookie that made me fall in love with the rich flavor of chocolate and peppermint in one!
Like peanut butter blossoms, these are really easy to make, although I have found that the chocolate dough is stickier and ends up coating my hands as I roll the balls of cookie dough. It's well worth it for the final result, though.
P.S. Note that these need to chill for at least four hours. You don't want to start making them at, say, 6:30 at night for a Christmas party the next day unless you want to be in the kitchen until 11 p.m. You're welcome.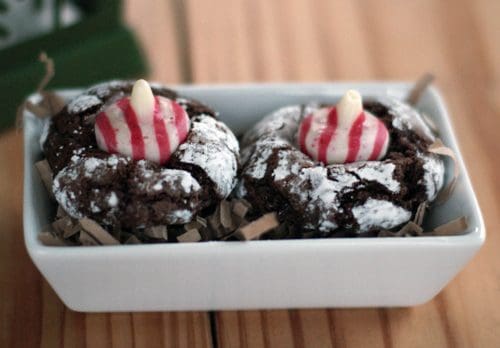 Ingredients:
48 candy cane chocolates
1 cup unsweetened cocoa powder
2 cups white sugar
1/2 cup vegetable oil or melted butter
4 eggs
2 teaspoons vanilla extract
2 cups all-purpose flour
2 teaspoons baking powder
1/2 teaspoon salt
1/2 cup confectioners' sugar
Directions:
Preheat oven to 375°F.
In a medium bowl, mix together cocoa, white sugar, and vegetable oil. Beat in eggs one at a time, then stir in the vanilla. Combine the flour, baking powder, and salt in a separate bowl, and then stir into the cocoa mixture. Cover dough, and chill for at least 4 hours.
Use a melon baller to shape dough into 1-inch balls. Roll each ball in confectioners sugar and place on ungreased cookie sheet.
Note: If your dough starts to get too sticky, stick it in the freezer for a few minutes.
Bake 8 to 10 minutes.
Unwrap chocolates while you wait and immediately press one into center of each cookie. The cookie will crack around the edges as you do. Move to a wire rack to cool.
Click here to add this recipe to your Plan to Eat account.
Related projects:
Join us as we celebrate 101 Days of Christmas with new DIY projects, gift ideas, traditions and more every day from now through Christmas!