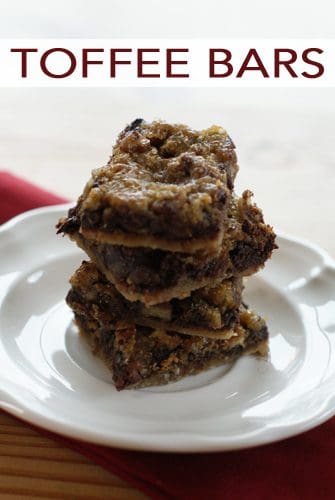 These chocolate-pecan toffee bars combine a shortbread crust with a chocolate-pecan center and a crispy toffee layer on top for a delicious treat that you'll find hard to resist. We scarfed down the batch I made (thankfully only a half batch!) while decorating our Christmas tree this weekend, and even my girls who don't like nuts loved them.
Make a batch to share at a cookie swap or package them in tissue paper for neighbors or friends…if they last long enough!
Ingredients:
1 cup all purpose flour
1/2 cup packed brown sugar
1/2 cup unsalted butter, softened
3/4 teaspoon vanilla extract
1/2 teaspoon salt
1 cup packed brown sugar
4 tablespoon all-purpose flour
1 teaspoon baking powder
2 eggs
2 cups semi-sweet chocolate chips
1 cup chopped pecans
Directions:
In a small bowl, mix 1 cup flour, 1/2 cup brown sugar, butter, vanilla extract and salt until well blended. Press into the bottom of an ungreased 9″ x 13″ inch pan.
Bake at 350 degrees for 10 minutes or until lightly browned. Remove from oven and cool for 5 minutes.
While the crust is baking, combine remaining brown sugar and flour with baking powder and eggs until well blended. Add chocolate chips and nuts and stir gently. Spread over crust.
Bake at 350 degrees for an additional 20-25 minutes or until deep brown and set in the center. Cool completely before cutting into bars.
Click here to add this recipe to your Plan to Eat account.
Related Projects:
Join us as we celebrate 101 Days of Christmas with new DIY projects, gift ideas, traditions and more every day from now through Christmas!