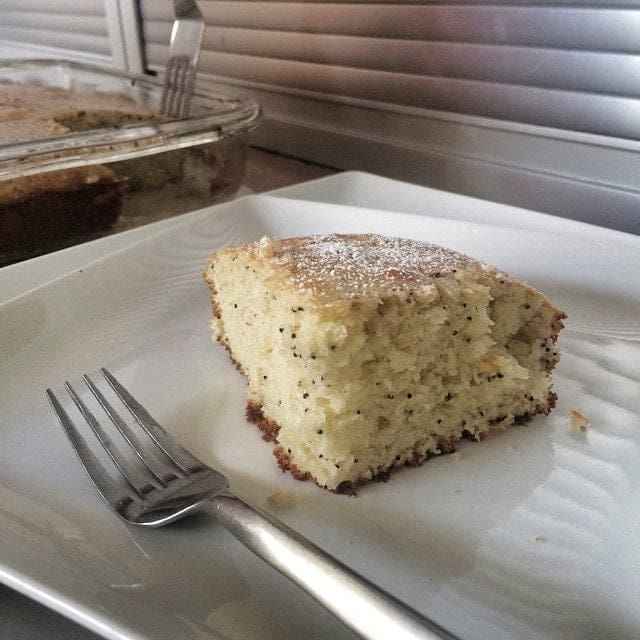 This picture is far from Pinterest-worthy, but I just had to share this recipe with you, and I promise you this is a recipe you want to try!
I've loved poppy seed muffins since my best friend's mom used to make them for us in high school, and I'm so glad to have passed that obsession on to my own girls.
The other night the girls began making plans to make poppy seed muffins for us for breakfast, and I started hunting down recipes based on the ingredients we had on hand. (My favorite recipe is the orange poppyseed bread from The Bread Lover's Bread Machine Cookbook.)
With some tweaking of this recipe, we ended up with a light and fluffy breakfast cake, and it turned out so well—much better than I expected, honestly.
Note: We're not big on overly sweet breakfasts, but you could juice another clementine and make a glaze if you'd like something more decadent for a brunch or special occasion!
Clementine poppy seed breakfast cake recipe
Ingredients
1 cup granulated sugar
3 cups all-purpose flour
1 tablespoon baking powder
½ teaspoon baking soda
½ teaspoon salt
1-1/2 tablespoon poppy seeds
¾ cups butter, melted
3 clementines, zested and juiced
1-1/8 cups sour cream
3 eggs
½ tablespoon vanilla
powdered sugar for dusting, optional
Directions
Preheat oven to 400 degrees. Butter a 9"x13" pan and set aside.
In a large bowl, combine sugar, flour, baking powder, baking soda and poppy seeds, mixing well.
In a separate bowl, whisk together remaining ingredients.
Make a well in the middle of your dry ingredients and pour the wet mixture into the well. Gently stir until just combined. Be careful not to overmix.
The mixture will be thick, like brownie batter. Pour into prepared pan and bake for 15 minutes or until the cake is set and the top is golden brown.
Dust with powdered sugar and serve.
Click here to add this recipe to your Plan to Eat account.
Try it—you won't be disappointed!