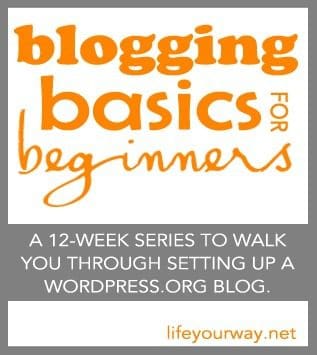 Blogging Basics for Beginners: A 12-Week Series to Walk You Through Setting Up a WordPress.org Blog will run every Thursday from August 30th through November 15th. Click here for all of the posts in the series.
Creating posts is really the most basic part of blogging.
Posts allow you to share your tips, ideas, inspiration and thoughts on your blog, and — thankfully — WordPress makes it easy to publish your posts with formatting that makes your words more appealing for readers as well.
Difference Between Posts and Pages
In WordPress, a post is a blog entry. It is usually posted at the top of your homepage and sent out to subscribers through your RSS feed.
A page, on the other hand, is static. It's not sent out to subscribers and doesn't show up on the homepage. Pages typically include About, Contact, Disclosures, etc. They're a great way to collect and highlight information that you don't want to send out as new content to subscribers but want to be able to link to in other places.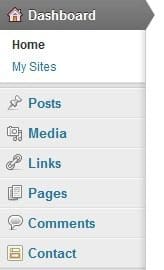 On the menu on the left side of your screen, you'll see options for both Posts and Pages. You can expand those menu items to see All Posts (or Pages) or Add New. (We'll talk about Categories & Tags another time.)
Difference Between Visual and HTML
The WordPress editor looks the same for both Posts and Pages, and within that view, you can choose between a Visual or HTML editor using the tabs on the top-left side of the edit window.
I recommend using the Visual editor when you're starting out because it works a lot like Microsoft Word: you simply click on the options to add or remove formatting from your text.
However, it's a really good idea to look at the HTML of your post as well because it allows you to see how different HTML tags affect the text and how you achieve the formatting you create in the Visual view.
The HTML view is great for inserting complicated HTML (like a table, for example) as well as fixing formatting errors which can show up when you paste text from other sources.
Uploading/Inserting Images
To upload/insert images, click on the Upload/Insert icon (between the Title and composition box, on the left side).
Click Select Files and choose the files from your desktop or folder that you want to insert.
Set a Title and Alternate Text for your image, choose the Alignment and set the Size, and then click Insert Into Post.
Publishing a Post
To actually publish a post or page, look for the Publish box on the right side of the screen. Here you can Save Draft (do this often; don't count on WordPress's autosave feature), Preview your post on your blog, delete a post with Move to Trash or Publish your post.
You can also schedule a post by clicking Edit next to Publish Immediately and setting the time and date that you'd like your post to be published!
Understanding the Buttons in Visual View
Before we finish, let's take a look at what each of the buttons on the Visual editor toolbar do:
The last button on the right on the top row is an important one. It toggles the second row of buttons, which gives you more options for formatting.
From left to right, top row:
Bold
Italics
Strikethrough
Numbering
Blockquote
Left-alignment
Centered
Right-alignment
[Insert hyperlink] [Remove hyperlink] [Insert [read more…] text] [Spellchecker] [Fullscreen mode] [Show all buttons]
From left to right, second row:
[Font styles]
Underline
[Full alignment] [Font color] [Paste as plain text] [Paste from Word] (to avoid formatting issues)
[Remove formatting] [Insert custom characters] [Outdent]
Indent
[Undo] [Redo] [Help]
Have you published posts or pages on your blog yet? Which toolbar function is your favorite?