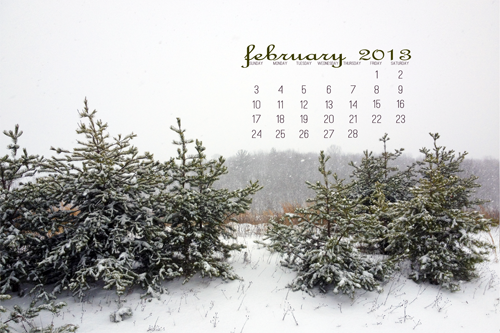 To download the image above to use as your desktop wallpaper, simply click the image (or this link: February 2013 Desktop Calendar) and choose Save Image As… Then, open the picture, right click and choose Set as desktop background.
Dear Readers…
Every year, the first day of February sneaks up and surprises me. Didn't we just turn the calendar page on a new year? How is one month gone already? If nothing else, it's a good reminder to savor each day — even those days filled with dirty diapers, bickering children and a mountain of laundry to overcome!
Be sure to download the February desktop calendar, featuring another image from our gorgeous white Christmas. While we're still hoping for a good ol' fashioned blizzard at some point this winter, we've been enjoying the snow showers and dustings since winter doesn't always guarantee snow in these parts!
As we head into February (the looooove month!), we'll be sharing Valentine's Day projects, relationship tips and more here at Life Your Way. Watch for some fun printables and tasty recipes as well.
Behind the scenes, we're also gearing up for a spring cleaning series in March, and I hope you'll join us for bite-sized tasks that will make spring cleaning easy and refreshing rather than a task to dread!
Finally, the Life Your Way weekly newsletter launched last month, and I'm having fun highlighting the posts from each week in an easy-to-skim format for readers. Get a sneak peak at this week's newsletter and be sure to subscribe so you don't miss future issues!
And now, meet our February 2013 sponsors:
Susan at The Confident Mom offers a variety of practical tips and resources for busy moms. From her popular weekly household planner to her new ebook, Become the Confident Mom You've Always Wanted to Be, Susan is helping empower moms and strengthen families every day!
Save 20% on the DIY Family Manager Makeover with coupon code NEWYOU! Valid through February 28, 2013.

The innovative NeuYear calendar is more than just a desktop calendar. This gorgeous one-year calendar shows you the whole year at once so you no longer have to page through a traditional calendar (or your small computer screen) to see the whole year. Unlike other calendars, this one has no space between months, which helps you plan your weeks even when they span two months. And each calendar is two-sided so you can choose between a vertical and horizontal calendar.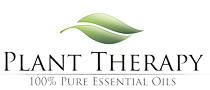 As I learn more about essential oils and the role they play in natural health, I'm excited to partner with Plant Therapy this month to dig into this topic more. Plant Therapy was founded with one goal in mind — to provide the highest quality essential oils (and accessories) at a price that everyone can afford. Their oils are 100% pure, undiluted and therapeutic grade. They source each oil from top suppliers around the world, buy in large volume, and negotiate the best prices possible so that they can pass the savings on to you, the consumer!
Thanks so much for being part of the Life Your Way community. I look forward to your comments and emails, and you all truly make this site what it is!