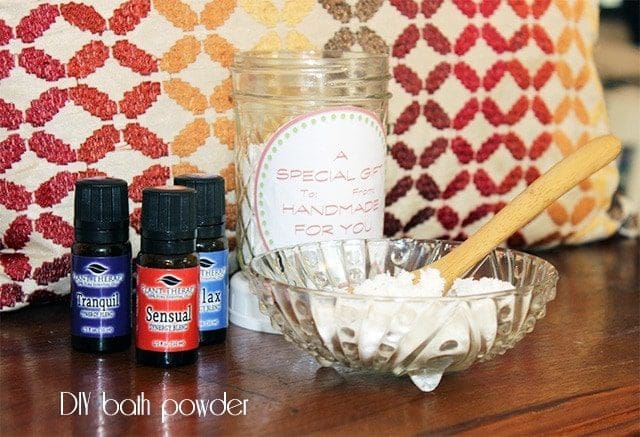 I'm so glad that Christina, one of Plant Therapy's staff aromatherapists and resident bloggers, agreed to share this recipe with us because it's not one that I would have come up on my own!
This bath powder is luxurious and smooth, perfect for the woman who needs just a little bit of pampering in the midst of her busy life!
1 ounce (by weight) Natrasorb Bath Starch
1/2 ounce (by weight) jojoba or other carrier oil
15 drops essential oil
Directions:
Weigh the bath starch and transfer it to a blender. Note: The bath starch is very loose and light by itself, so be sure to move slowly and carefully to avoid a big mess.
Weigh the carrier oil separately. Add the essential oils to the oil and stir to combine.
Pour the liquid oil on top of the starch in the blender and blend for about 30 seconds to incorporate. Allow to settle and then package in individual jars!
Tip: I've managed to create the rest of my recipes based on volume measurements, but this one really calls for weighing out your ingredients. That said, I haven't tried it yet, but I think you could skip weighing the ingredients and add just a little bit of carrier oil to your powder at a time, pulsing it to get an idea of the consistency before you add any more. You want it to be dry, almost like a coarse meal in baking, with enough oil to keep it from flying everywhere! Just be sure to add the essential oils to the first bit of carrier oil you add so that gets incorporated right away.
Projects from the archives:
Join us as we celebrate 101 Days of Christmas with new DIY projects, gift ideas, traditions and more every day from now through Christmas!