I am so excited to bring you this exciting, exclusive offer from Invite.l just for Life Your Way readers!
I first introduced you to the Invite.l stationery company last year, and I've been head over heels for their stuff since I discovered them. I've also had the privilege of working with their team behind the scenes on giveaways and other fun projects and getting sneak peeks at some of their new products.
Invite.l makes a variety of notebooks, journals and planners as well as purse organizers and more. I absolutely love their masking tape collection (which I use for labeling, creating tabs and even creating a custom white board for our homeschooling.
In addition, I'm a huge fan of their Daily Planner!
To be honest, I never really stick with one to-do list system for very long — I usually jump between systems every few months — so I'm almost afraid to tell you that this one has stuck and "jinx" it. But it really has, and I actually just started my second planner.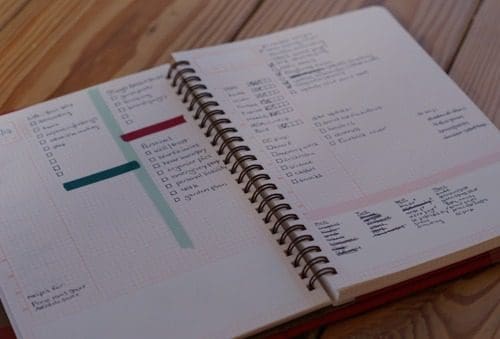 I create a new two-page spread for each week, with my overall to-do list on one side of the page and my emergent list, everyday activities and daily to-do lists on the other.
Because the pages aren't dated, I can easily do brain dumps on blank pages to clear my mind, and I also add pages for planning, packing lists, shopping lists, post ideas, etc.
You can see that I add tabs with my masking tape to be able to easily flip between the weeks, and I also use tabs at the top to be able to find these special planning pages.
Like I said, these pages are incredibly versatile. I've found a system that is working really well for me, although it took me quite a few months to "perfect" it, but you could easily tailor it for your own lifestyle and needs. Since it is a daily planner, you could use one page per day…or every few days as needed, or you could journal in between your to-do lists. Whatever works for you!
Right now Invite.l is offering a special offer just for Life Your Way readers. Get your own Daily Planner for just $17 shipped. It's more than you'd pay for a cheap planner at Walmart, no doubt, but these have sturdy covers, high-quality paper and a unique grid design that makes them a valuable tool.
This is the lowest price available, so if you've wanted to try one of these but have been put off by the price, now's your chance. Use the Paypal button below to place your order directly with Invite.l:
I'm sorry, but this offer has ended!