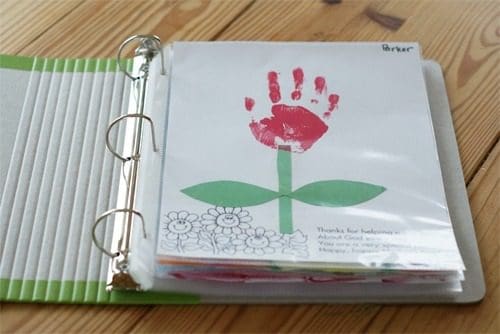 This giveaway is now closed! The winner is Nikki ([email protected]…)!
Binders can help organize pretty much anything, whether it's around the house or for your kids.
And while there are tons of binders to choose from at any grocery, office supply or superstore, most of them end up being cheap — or expensive — plastic.
With the number of binders we use in our homes and our kids go through each year, wouldn't it be great if there was a better choice? If you've been following my Naked Binder posts, you know there is!
Naked Binders are not only made from recycled materials, but they're also 100% recyclable. They can also keep 60 million pounds of toxic material from landfills each year, improving air quality and preserving forests and wild spaces.
Here's how:
Naked Binders are made in the USA from 100% recycled, 97-100% post-consumer waste board which means all Naked Binder products are 100% recyclable. They are proud to use FSC (Forest Stewardship Council) certified board when making their 3-ring binders and folders and are happy to be members of 1% For The Planet in which they donate part of proceeds to environmental organizations striving to preserve the wild spaces we all love.
A sustainable binder should also be strong and good looking, so Naked Binder designed them to be both. The Naked Binder is crafted from one piece of board with the hinge pressed directly into it. This leaves no weak spots on the binder and makes for a super strong 3-ring binder.  An independent lab flexed the Naked Binder 250,000 times without failing which means if you use this binder 20 times a day for 34 years, you still will not break the hinge. Now that's strong.
So, whether you're buying a few to use as art binders or to organize your home, you can be sure that you're investing in a quality product that will last and that doesn't hurt the environment on either end of its lifecycle!Features:
Made in the USA
Round or  square binder spines
1", 1.5″,  2″,  2.5″ D-Ring
Completely recyclable
100% recycled board, 97% post-consumer waste
Independently tested to 250,000+ flexes
Choose from a variety of colors and sizes for all of your needs!
Enter to Win
This week, Naked Binder is giving one lucky Life Your Way reader a set to try for themselves, including: a Naked Binder, a Naked Notebook Binder, a Project Binder, a set of Naked Tabs and a set of Notebook Tabs!
To enter, fill out the form below:
Loading…
This giveaway ends at 11:59 p.m. ET on 5/30. The winner will be selected randomly and notified by email, and this post will be updated with their name as well. Open to U.S. residents 18 years old and above.