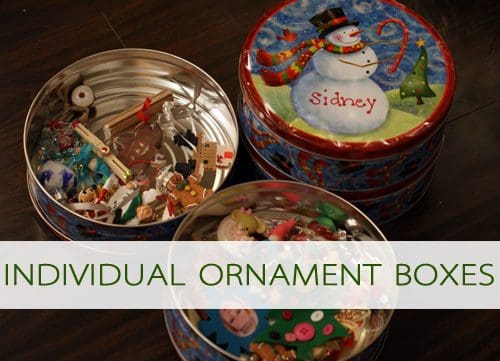 One of our favorite Christmas traditions is to give our kids each a new ornament in their stockings every year so that they can grow their own collection of ornaments. But for our girls, the best part of this tradition isn't opening the new ornaments; it's packing and unpacking their individual ornament boxes at the beginning and end of the season!
I picked up a few tins on clearance after Christmas a few years ago and added each of their names to one of the lids. Then, we began packing up their ornaments in separate tins. The following year, when it was time to decorate the tree, they were so excited to have their very own collection to hang on the tree, and it really does make for a fun decorating tradition as they hang up their ornaments while my husband does his best to make the tree look pretty with our base sets and I hang all the rest.
Then, at the end of the season, it becomes a  game of "I Spy" as they hunt for all of their ornaments to put back in their tins! I have a feeling that at some point we'll need larger tins because their collections include not just the annual ornaments we give them but also the special ones they make, but I love the idea that one day (in the distant future!) when they move out, they'll have a tin of ornaments to take with them!
Head here for more tips on packing up and storing your holiday decor.
And that's the last of the 101 Days of Christmas. See you next year!