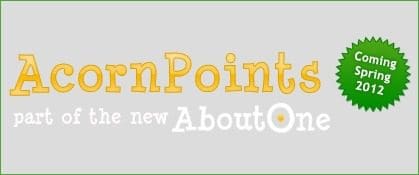 I've shared AboutOne with you before, but this online home management system just keeps getting better!
AboutOne is the fast easy way to organize your busy life, and the company has partnered with Microsoft and Suze Orman (IDSafe) to launch a brand new version of its online organizer. You have Facebook for friends and LinkedIn for business, but nothing in the middle to help you manage your home life more smoothly. That's where AboutOne comes in (be sure to watch the video…it's hysterical!):
Along with other exciting new features, AboutOne will now include the AcornPoints rewards program that pays you to use AboutOne to get organized. Based on feedback from current customers and designed to make getting organized virtually effortless for the user, AboutOne with AcornPoints will:
save time by syncing with customers' existing Google, iCal, or Outlook calendar/contact tools to make them more useful.
pay customers in gift cards from their favorite sites for achieving their organization goals.
give customers peace of mind with third party privacy audits and bank-level security.
AboutOne with AcornPoints will supercharge your existing calendar and contacts tools to make your household information (health, education, home, and vehicle records, plus precious memories in text, photo, video and artwork) work for you:
Calendar-based, online organizer
Completely private with bank-level security
Full mobile access
Online filing cabinet
Guides you on the path to organization
Instantly formats your information, when and how you need it, either online or through printable reports, newsletters, or photo memory books
As part of the launch celebration, AboutOne is encouraging everyone to help spread the word with a $10,000 tell-a-friend giveaway!
Just enter your email address to get on the list to receive a free account, confirm your subscription, then refer at least 3 friends. Each friend who signs up and confirms their subscription will enter you both in the giveaway. Together, you and one of your friends could share the $10,000 prize!
So…what are you waiting for? Enter now!
This is a sponsored post on behalf of AboutOne, but all opinions are 100% mine!