Ah, s'mores – is there a more perfect food?! Okay, so there are plenty of healthier, more sophisticated options, but chocolate and marshmallow are both at the top of my comfort food list, making s'mores among my favorite summer desserts. Over the last few weeks, I've noticed quite a few variations on the classic campfire s'more on Pinterest, so I set out to see just how many I could find. And, wow, are there some delicious-looking recipes out there in the blogosphere.
Here are my favorite 9. Yes, the s'mores cake in a jar (#5) is calling my name…how did you know?

1. Oven S'mores | My Junk Drawer
2. Giant S'mores Cookie | My Baking Addiction
3. S'mores Pudding | Annie's Eats
4. S'more Cookie Bars | Crepes of Wrath
5. S'mores Cake in a Jar | How Sweet It Is
6. S'mores Cupcakes | Cupcake Takes the Cake
7. Tiny & Fancy S'mores | Oh Joy!
8. Chocolate Graham Cracker Nutella S'mores | Baking and Boys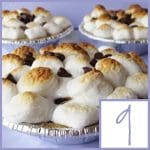 9. Mini S'mores Pies | Confessions of a Cookbook Queen
Want to see more? Be sure to check out my More Than a S'more board on Pinterest!
What's your favorite way to make s'mores?