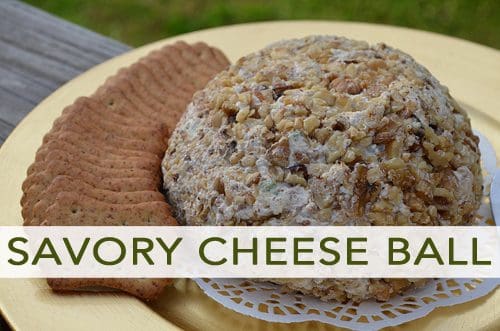 This is one of my baby sister's absolute favorite foods, and so it always makes an appearance at holidays and family get-togethers.
Cheese balls are actually a really easy party appetizer because they can be made a day or two in advance and don't require any special presentation. Serve this savory cheese ball with whole grain or butter crackers, table wafers or even pretzels!
Ingredients:
2 packages cream cheese, softened
1 8-ounce can crushed pineapple, drained well
2 cups pecans, chopped
1/4 cup green pepper, finely chopped
2 tablespoons onion, finely chopped
1 tablespoon seasoned salt
Directions:
Beat cream cheese until smooth, and then stir in the pineapple and 1 cup pecans. Add green pepper, onion, and seasoned salt.
Form into a ball and coat with remaining 1 cup Pecans. Wrap in plastic wrap and chill for several hours in the refrigerator before serving.
Click here to add this recipe to your Plan to Eat account.
Related Projects:
Join us as we celebrate 101 Days of Christmas with new DIY projects, gift ideas, traditions and more every day from now through Christmas!