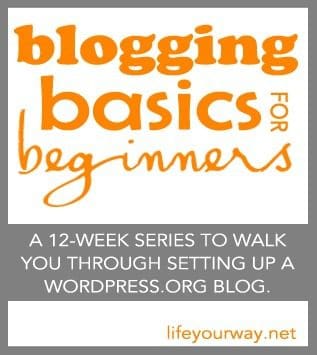 Blogging Basics for Beginners: A 12-Week Series to Walk You Through Setting Up a WordPress.org Blog will run every Thursday from August 30th through November 15th. Click here for all of the posts in the series.
As we mentioned in the introductory post, the beauty of WordPress is the ability to customize your site — almost without limit — through an easy-to-use dashboard.
In our last post, we talked about how easy it was to get a WordPress up and running with Hostgator. This time around we are going to cover getting the default WordPress theme, Twenty Eleven, up and running as well as customizing it for your site.
The latest version of WordPress (3.4.2) makes customizing your new blog very easy. If you have an older version installed, you'll see a yellow bar across the top of your dashboard that says "WordPress 3.4.2 is available! Please update now." It can be a little scary to update once your site is already customized because the updates can affect some plugins and customizations, so you will want to always backup before you do that in the future. However, if you're just getting started, there's no reason not update first, so go ahead and click that link and walk through the steps of updating WordPress.
Once that's done, click on Appearance and then the Themes option on the left sidebar. The screen you will see will be similar to the one below. Notice the black arrows where you can make changes to the theme by clicking on those individual links. But the one that allows you to make changes and see them live before publishing is the Customize option.
The customization screen opens up and will present you with a list of options. Let's start out by giving the blog a new tagline. Just click on that option.
When it opens up, go ahead and enter in your new tagline. As you do so, you'll get to see what it will look like live.
You may want to change the header image. That is easy to do. Click on the header area. You will see several header images that are included you can choose from. Just click on any of them and you'll see the previewed change.
If you want to add your custom image, you'll have to go back to the screen where we started and click on Header. When you do that, you'll be presented with this screen where you can insert your own image. Note the dimension settings. Your image will be sized to those dimensions so be sure have the image correctly formatted so it doesn't look stretched, compressed or pixelated.
You can also change the colors of your blog. You can choose a dark theme, change the color of the header text, the background color and the link color.
Make any additional changes you'd like and when you're done click on 'Save & Publish' and you're done! It's that easy.
The best part it is, you can tweak all of these settings and preview them before making them live.
Next week we'll walk through setting up Feedburner for your RSS and email subscribers.
Have you customized your site? Leave your URL in the comments!