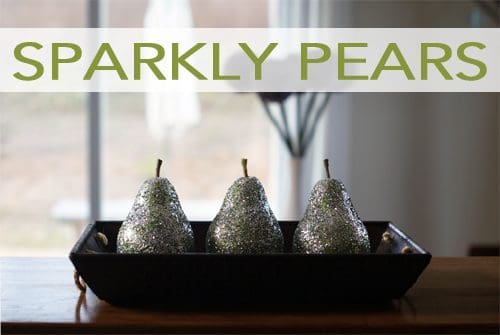 Okay, so I have a bit of a thing for glitter!
I first came across the idea of sparkly pears on the Pottery Barn website, and I even ordered a set on clearance last year…only to have my order canceled because they were out of stock. So I set out to make my own.
And I'm glad I did! This is an easy project to have the kids help with, and I love the sparkle the finished pears add to the kitchen area.
We actually had three plain pears in our "decor cabinet," the leftovers from a set of eight we'd gotten from Target to use on the breakfast bar, but you should be able to find them at Target or your local craft store.
Supplies:
Directions:
Holding the pear from both ends of the core, use a foam brush to carefully paint a thin layer of white glue on a section of the pear. Sprinkle the section with glitter (be sure to do this over a tray so you can reuse the excess glitter!).
Rotate and repeat until the entire pear is covered.
Set aside to dry.
If your pears will sit undisturbed, you don't need to use a finishing glaze, but if they'll be touched or moved often, or if you want to be able to reuse them year after year, you'll want to spray them with a coat of clear spray glaze to protect the glitter.
Related Projects:
Join us as we celebrate 101 Days of Christmas with new DIY projects, gift ideas, traditions and more every day from now through Christmas!