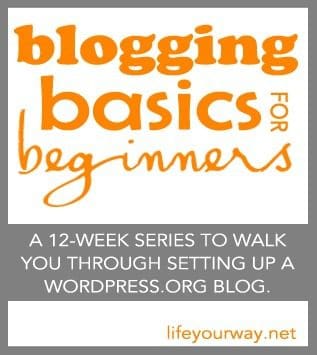 Blogging Basics for Beginners: A 12-Week Series to Walk You Through Setting Up a WordPress.org Blog will run every Thursday from August 30th through November 15th. Click here for all of the posts in the series.
WordPress has many features and extras that can enhance your blogging experience. However, much of that requires the ability to write code in order to customize. If your main goal is merely to publish, then you need an alternative. In most cases, that alternative can be found with a WordPress plugin.
Plugins make it very easy to accomplish different tasks, but be careful about how many you install.
Plugins will add time to the page loads, and speed is critical for a WordPress based blog. Readers will not stick around if the content them are attempting to read is taking too long to load. In addition, plugins can offer a security risk, so be sure to only install plugins from trusted developers. Plugins can also interfere with one another and the main functions of your site, so if things start acting funny, start by disabling plugins and then reenabling them one at a time.
Here is a short list of our favorite WordPress plugins:
Mandi's Picks
1. Search & Replace
This is by far my favorite plugin because it's saved me hours of work! You have to be really, really careful with this plugin because it makes permanent changes to your site, but it's very handy for finding and replacing words, URLs, code, etc.
2. Post Template
This is a paid plugin, so you probably won't want to invest it in right away (although it's inexpensive at $7!). However, it's very useful if you're posting similar posts on a regular basis because it allows you to create a template of text so that you don't have to manually add the same thing each time.
3. nrelate Related Content
This plugin allows you to add links or images for related content to your posts. What I love about this one, compared to other options, is that there are a ton of options to allow you to customize where you place the related content and how it looks!
4. What Would Seth Godin Do
WWSGD allows you to create custom messages to welcome your readers to your site. It recognizes whether someone has visited your site before or not so that you can customize the message for new visitors.
5. WordPress SEO by Yoast
Although you're probably not thinking about search engine optimization (SEO) at this stage of starting a blog, but WordPress SEO by Yoast creates a foundation that you can build on as you grow your site, and my favorite feature of this one for new bloggers is the ability to customize the footer of posts for RSS subscribers. Add a copyright message, a link to a special offer for subscribers, etc.
James' Picks
1. W3 Total Cache
One word: Speed. It makes your pages load faster and it stores static versions of the site, thereby eliminating the need for WordPress to do all of the work.
2. WP-PageNavi
The "Newer Posts" and "Older Posts" link at the bottom of pages on the blog is static and somewhat boring. With WP-PageNavi, you can get page buttons allowing users to easily navigate to the posts they want.
3. Tweet Old Post
This is a great little plugin that integrates with Twitter. As your Twitter community grows, they may not be privy to older blog posts you have written. This will throw a tweet out from time to time. It can be customized so you can let people know the blog post being linked is not new overall, but still new for some people.
4. SEO Smart Links
Interlinking your blog posts is great for SEO purposes. It helps to build page rank which is critical to search engine placement results. It allows readers to be able to see other posts on similar topics. This plugin will add links from key words to other blog posts for you.
5. WP-DBManager
Backing up your WordPress site is important. The last thing you want to do is have to start over. Even web hosts have failures. However, if you have your WordPress database, you can easily get back up and running if necessary.
How to Install Plugins
Thankfully, WordPress has made the process of installing new plugins very easy; you can do it right from your dashboard.
Log into WordPress and click on the Plugins link on the left menu bar and then click on Add New.
In the search box, type in W3-Total Cache.
When you do that, you'll see a list of results with the W3 Total Cache plugin at the top. Go ahead and click on 'Install Now.' WordPress will throw out a popup asking of you're sure you want to install it. Click yes.
The plugin will install, but there is another step, and that is activating it. Click on the Activate Plugin and when it is ready, click on the Return To Plugin Page.
When you go back to the main plugin page, it will tell you the plugin has been activated and you will see it in the list.
At this point, you can click on the settings link, but in left hand column, you will see amongst the base WordPress options, a new tab that says 'Performance.' That like the settings link will take you into the plugin where you can configure, fine tune and finally, deploy it. The W3 Total Cache has a great FAQ which will answer many questions about how this product works. It is ready to go once you have installed. The other options are there to allow you to be more specific about what you want cached.
valign="top"