As I focus on making this the year that I finally grew a vegetable garden, I'm soaking up all the inspiration I can from other people. No matter what size yard you have, chances are you can grow a garden in that space with a little creativity.
Below are 9 unique garden spaces, from large backyard vegetable gardens to creative vertical gardens:

1. Tire Planter | This Vintage Chica
2. Ready-to-Go Oasis Garden | Backyard Botanical
3. Upside Down Gardening | Gardening Know-How
4. Herb Garden in a Pot | Food for My Family
5. Self-Watering Containers | Urban Organic Gardening
6. Square Foot Garden Box | Frugal Dad
7. Vertical Gardening in a Pocket Shoe Organizer | Instructables
8. Organic Teepee Trellises | DigginFood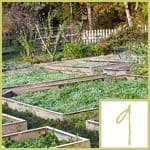 9. Large Backyard Garden | Small Things
Do you get creative with your vegetable garden?