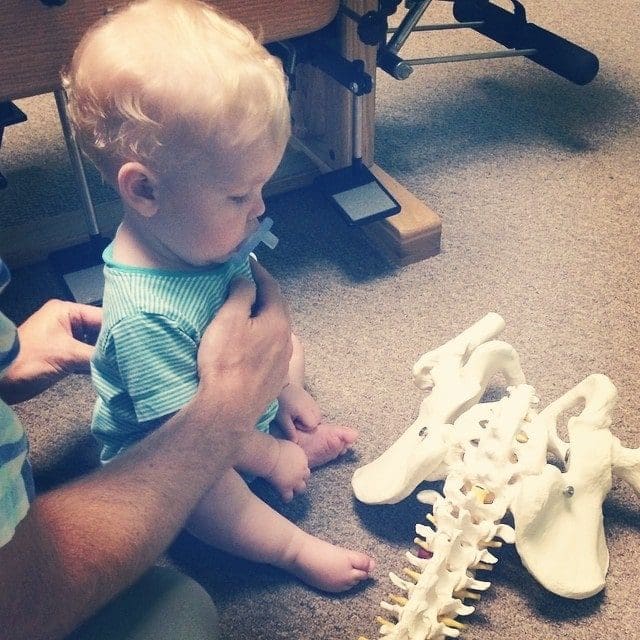 From Instagram: "We're trying chiropractic care to see if we can help Jackson's digestive issues. If nothing else, he loved the experience, which was fairly miraculous considering his aversion to strangers."
Despite discontinuing solid foods and transitioning to all formula (to eliminate any variable in my diet, since we know he needs formula anyway for his weight issues), Jackson is still experiencing what we're pretty sure are stomach aches every few nights.
I wasn't sure how taking him to the chiropractor would go since he shies away from strangers, burying his face in my neck and holding on tight, but between Dr. Darrell's great bedside manner and this fun spine, he was as comfortable as could be.
He crawled around, explored, sat still as Dr. Darrell examined him, and giggled through an inversion!
Technically, that was just our consultation, and our first appointment is next week, but he has slept solidly the first two nights following his appointment, so I am definitely intrigued.
Here are some of my favorite posts from this week. As always, check out what I'm reading and what I'm pinning to see the other posts that make me stop and think (or, you know, drool…). You'll find new posts all week long!
This week has been an emotional one. Between the brutal killings and persecution of Christians by ISIS in Iraq, Robin Williams' suicide and the protests in Ferguson, Missouri following the shooting and death of Michael Brown, emotions and opinions are running high. I'm sharing the posts that made me think this week, but before I do, be sure to read this post from my friend Lisa. It's so important if we want to have any type of productive conversation about any of the tough issues.
Christians & Depression
The depressed Christian: why the dark night is no measure of your soul | SortaCrunchy
What the Church & Christians Need to Know About Suicide & Mental Health | A Holy Experience
#Ferguson
Black men post "thug" and professional pics side-by-side for powerful anti-media protest | 22 Words
In which I have a few things to tell you about #Ferguson | Sarah Bessey
This Crazy, Beautiful Life
Have a great weekend!