My reading list for this week originally included three nonfiction books, but I ended up adding in two fiction books instead. After a busy day I find myself just wanting to disappear into a good book for a couple of hours, and most nonfiction doesn't hit that sweet spot in the same way — although memories like Kisses from Katie, Love Does and Blue Like Jazz rank right up there with fiction for me. Either way, I'm still doing much better on nonfiction selections than I did last year!
Head here to see Katie's post for this week. We also want to know what you're reading! Add your blog post to the linky below or leave a comment with your favorite reads from this week.
(See the full 2013 list here.)
This Week's Reads
Kisses from Katie by Katie J. Davis
I'm not sure there are adequate words to describe this book. It's beautiful in a way that's hard to describe, and I love and admire Katie Davis' commitment to God's calling on her life and the people of Uganda.
What I can't figure out is what I should do with it now that I've finished the book.
So much of what Katie says pierced my heart as she talks about our American lives of luxury juxtaposed against the poverty of Uganda, where people are starving to death, unable to go to school or forced to leave their small children alone for days and weeks to seek work to feed them. I don't feel called to move to Africa and adopt 14 children (although there are many times when she even makes that sound appealing as she describes the overwhelming love and joy in their home), but I don't want to just walk away from this book and continue on with my life either.
Rebekah (Wives of the Patriarchs Book #2) by Jill Eileen Smith
Although I often read historical fiction, it's been a long time since I've read a book set during biblical times (a genre I loved when I was in high school), and so I jumped at the chance to review Rebekah by Jill Smith. This is really a beautiful telling of the story of Rebekah, who married Isaac, the son of Abraham, in the Bible. I loved discovering more about the customs and culture of that time, and Smith is a wonderful storyteller. The one downside was that I had a hard time just enjoying the story and instead spent a lot of time wondering if Smith's descriptions of dialogue, emotions, etc. were true, but that's more a reflection of my type-A, analytical mind than it is of her writing or storytelling!
P.S. Jill Smith will be the featured guest on a Live interactive Video Chat Session sponsored by "Shindig" on Tuesday February 19th at 7:00 pm EST! It's free to attend, and you can meet Jill and ask any questions you have for her about biblical fiction or any of her books! Head here to RSVP and find out more details about this event.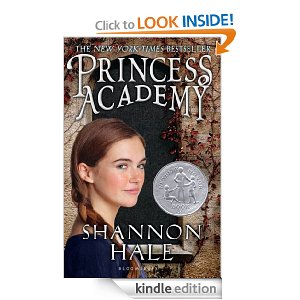 Princess Academy by Shannon Hale
Last week, Katie mentioned Princess Academy in her post, and although I wasn't sure if I would like it based on the title (despite having four daughters who love everything princess, fru-fru princesses aren't really my thing!), I was intrigued by the description. When the royal priests divine that the future princess should come from Mount Eskel, the girls in Miri's small mountain town are sent to a princess academy to learn how to be a princess so that the prince can choose among them. There, the girls face harsh rules and punishments and compete for the honor of being the "academy princess", and Miri, whose greatest desire has always been to work in the linder mine, discovers a secret about their mountain that changes everything.
I loved this Newberry Medal winner, and I can't wait to share it with my girls in a few years!
My First Little House Books by Laura Ingalls Wilder
Each week, my husband takes one of the girls on a library date, and this week our almost-7-year-old discovered these Little House books on her trip to the library. Written by Laura Ingalls Wilder for younger children, these stories are sweet retellings of the Little House stories, full of beautiful, colorful illustrations. I was actually hoping to add these to our home library, but it doesn't look like they're being printed anymore, so we'll have to stick with borrowing the library's copies!
On My Reading List for This Week
Audiobooks
The Ramona Quimby Audio Collection
From Parker (5): "I like the part where she walks Henry's dog in the bathroom. I do like that part and also the part where Henry didn't know that Ribsy stole Ramona's cookie. I like them because they're silly stories."
From Dylan (7): "Henry Huggins is in these stories too, but these are about Ramona Quimby, a girl that's 9. In one, she gets fired from kindergarten because she kept pulling her friend's curly hair and saying "Boing!". Ramona is mean to her big sister, Beezus, because Beezus always calls her a pest. I like that there's a collection of stories, and I like Beezus a lot because she's in a lot of stories."
Share Your Reading List
'); // ]]>