The following post is from Brad, a web designer and father of quadruplets: Where Does the Time Go?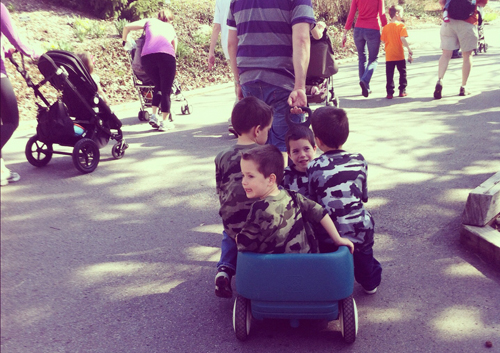 Every year that goes by, as a dad of four boys, the level of potential fun seems to increase exponentially.  And, as spring seems to have sprung early here in the Midwest, I am beside myself with excitement for the warm months of activity that lay before us as a family.
However, my memory of summers gone by also leaves a nagging understanding that we don't often get to do all of those wonderful family activities.  Somehow we just don't get around to doing many of them.
Why is that?  Does that happen to you?  I think I might have figured out why it happens to our family.  And Jen and I are both determined to make a change this year.
We have not been intentional about our weekly/month/year schedule.
We often make a decision without completely weighing out its potential commitments and consequences.
This week, we nearly made one such decision:  In my mind, every little boy plays little league baseball.  It's America's game, right?  So when I figured out that we could still get our boys on a team after missing sign-ups, I was excited!  When I shared my wonderful news with Jen, she cautiously and kindly asked a few questions that changed everything.
"Are you sure you want to commit to having the boys at practice and games for the whole season?"

"Do you want to spend $300 on baseball right now?"

"Is that where we want to spend our limited resources this summer?"

"We won't have time to do some other things if we are doing baseball, is that ok with you?"
What's more important?
Suddenly, my defensive posture at her questioning melted as I watched the camping trips disappear from the summer schedule in my mind's eye.  The summer of fun and spiritual growth I had planned for my wife and children was already getting crowded out by a decision I was making without much thought of its consequences.
Our boys are only going to be 5 years old one time, and I am going to soak it up this summer.  Filling our schedule with activities not only crowds out important family time, but it also leaves less time to serve our church, our neighbors, and our community.  I want every moment I can get with my boys to pour the truth of God's Word into their minds and spirits.  I want to explore creation with them and proclaim His greatness to them.  That is my passion right now…and baseball just doesn't fit into that mold this year.
I am sure in a future year. Baseball could fall higher on the priority list, but maybe not.  Regardless, I am committed to leading my family in a new direction of intentional living where we think through every decision before we make it.  We will no longer sign up for baseball just because that seems like the thing to do in our culture.  We will sign up for baseball if and when that decision seems right after we've weighed everything out.
What intentional decisions have you made for your family this year?
Brad is the father of four 5-year-old energetic little boys (quadruplets). He runs his web design business from home, which blesses him with the opportunity to be a nearly constant influence on them. He has a passion for leading his family biblically as a servant and enjoys nearly every moment of it.
Brad Murray