Nothing says new beginnings quite like a big move to a new home or a new destination. And while the prospect of starting over is extremely exciting, it does carry with it a bit of nervous energy as well. Venturing towards a new chapter of your life means walking into new and sometimes unknown surroundings. The process of moving in itself can sometimes become extremely messy and stressful. However, the good news is that it really doesn't have to be. If you create a checklist of all the things that need to be done, this is one thing that you don't have to worry about your big move because everything will be in order. If this is new ground for you and you're not really sure how to get it done, read on because we're providing you with the perfect 6 point checklist that is bound to help you with your big move. 
Organize and Declutter
The first thing you need to do is start going through one room at a time. You need to work with the intention to declutter in mind. This means you should get rid of as much as you can and only take what you need because you are starting over, and less is always more. This can take a lot of time and energy, so you should visit eagledumpsterrental or a similar platform to get professional help in getting rid of things you no longer need. Also, think about how many less fortunate people you're going to be helping out by distributing all of these things to charity. As you pack your boxes, it's important that you keep everything organized. Divide by room, items, and size if you like. It is entirely up to you how you do it, but make sure it's done through a system that you understand, and that will be easy for you to unpack. 
Label and Make a Record of the Boxes
As you organize your belongings and place them in your boxes, make sure that you label them as you work. You are bound to forget everything, so work on a system that you can easily make a record of. For example, you have this many bedroom boxes- the subcategories can be linens, toiletries, shoes, and so on. As you clearly label the boxes, make sure that you pack everything well. Keep in mind that these boxes are going to be carried and moved around, so the tighter you pack everything, the better. You need to wrap anything that can be damaged or broken in a way that it won't have a chance to move or break. All of these items need to be on your checklist on an app on your phone or laptop, so when it's time to unpack after the move, you know exactly where everything is. 
Find a Reliable Moving Company
The sooner you can find a moving company, the better. This is because you want to start making arrangements about booking a time and date for the move. Keep in mind that there may be different dates for different items, and this is something you need to discuss with the moving company to work out the details. Friendly and professional Texas-based movers with knowledge of the local area can make your packing efficient and moving completed within your timeline. A Texas-based Arlington local moving services clarify details that you should expect from a reliable moving company, such as providing you with a flat rate estimate, informing you about their licensing, and providing the necessary equipment needed for the move. You shouldn't settle for anything less because this is the most important stage of the move. Your belongings are literally in the movers' hands, and you need to feel comfortable with their services and level of professionalism.  
Move Appliances and Large Items First
It would be smart to focus on having your larger items and appliances moved to your new place first. The reason for this is that you're going to need a full day with the movers making sure that these large items and appliances are put in the right place and done carefully. You should not move these things at all after that or even try to do it yourself because you might end up damaging the floors or breaking something. 
Find Electrician and Plumber 
Once your appliances and large items have been moved, ideally, you'll want to have an electrician and plumber there already so that they can have everything set up. It's good to have this done while the movers are bringing things in, in case something changes and you need something to be moved. 
Have a Cleaning Company on Call
Finally, after all the electrical and plumbing work has been done, your furniture, appliances, and boxes brought in, you're going to need a really good cleaning job done. Keep in mind that you need this done in both the old and new places, so two separate companies or the same company with different branches should do the trick. Professional cleaning companies will provide a deep clean and save you the trouble because you will already be exhausted and have a lot to do.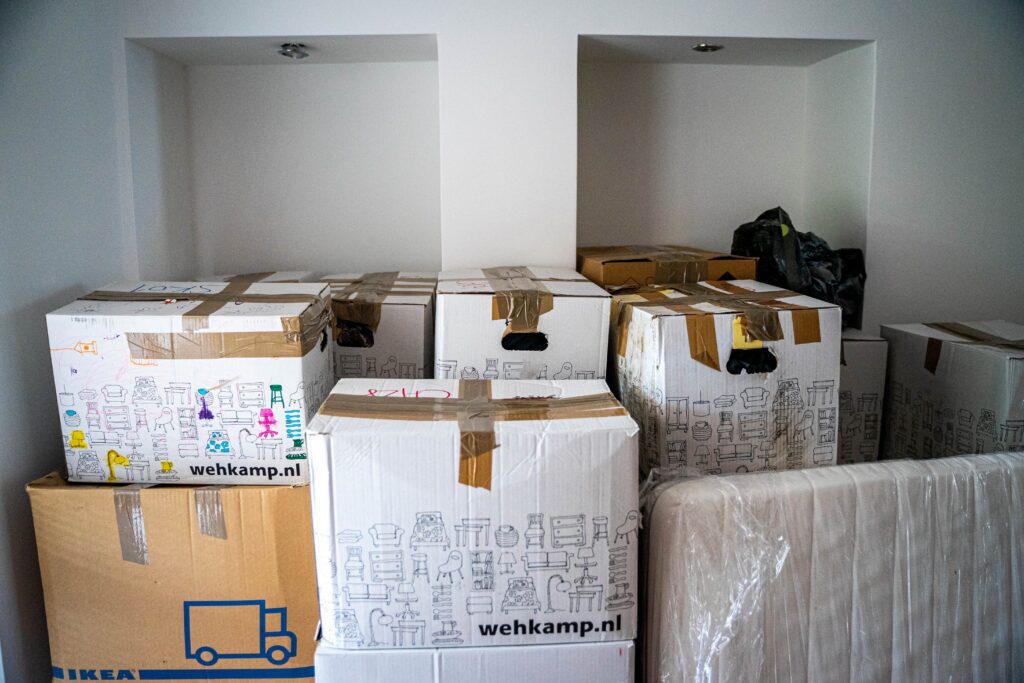 There you have! This is the ultimate moving checklist that is going to make life that much easier for you as you move to your new place. The idea of moving in itself is huge, and it symbolizes "change" from every angle. This is why it's so important that you always stay organized and prepared. 
Featured Image by unsplash.com