House cleaning is relaxing and joyful for some people, while others truly resent doing it. No matter what one's attitude about it might be, it is something that everyone needs to do to keep their home nice and clean. Of course, to do it well, it is best if you have good tools to help you. Whether cleaning your bathroom, kitchen, or living room, you can always find some great gadgets to help you get the job done. To find out how to find the best cleaning products out there, read through the guide below!
Vacuum cleaner
A vacuum cleaner is one of the most common things you use to clean your home. It can allow you to clean carpets, hardwood floors, and even tiles. There are numerous options out there, and you just have to find the one that fits your needs and budget. For instance, if you opt for a Miele canister vacuum cleaner, you can use it for all types of carpeting and hard floors. However, depending on your preferences, you can also get a stick vacuum, robot vacuum, or carpet cleaner. In any case, investing in a great vacuum cleaner will pay off for sure. Not only will your home be cleaner, but the vacuum cleaner will last longer for sure. So, if you do not have a big enough budget yet, the best is to wait a bit longer so that you can get one truly worth investing in.
Cleaning wipes
Cleaning wipes are one of the most popular home cleaning products, and rightfully so. This cheap and simple product can allow you to clean anything from spilled milk to layers of dust at the top of the closet. The best ones to opt for if you are on a budget are the multi-purpose ones. They will get the job done, no matter what you clean. Also, be sure to get the antibacterial ones so that your home does not just look clean, but indeed is. When buying these wipes, choose a scent that you like for sure. Their smell sticks around for quite a while, so you probably would not want that if you hate the smell.
Duster
When it comes to dusters, be sure to get microfiber ones. They will do the best job picking up all the dust and are easier to wash than all the other types. To be able to reach all places, get the one with a pole that can be elongated. It will save you from having to climb on chairs to reach for corners of your ceiling. And of course, make sure that you buy one with a removable and reusable head so that you can just throw it in the washing machine when you are done.
Hardwood cleaners
When it comes to hardwood floors, they usually do not get as much attention as, say, your tiles in the bathroom. Most people only use a mop and water, but that does not get the job done, and a hardwood cleaner. Using this type of cleaner will allow your floors to be cleaner and stay in the same shape for longer periods. And of course, your floors will not look as shiny when you only use water. 
Eraser sponges
Everyone has at one point dealt with some stains on the walls. No matter if you accidentally spilled some juice on it or your kids drew all over your walls, it is always hard to clean. Luckily, there is something that can be of major help in this situation – eraser sponges. This cleaning tool is so simple and yet so effective. So, if you have any crayon marks on the wall or dried-out refrigerator spills, wipe them up easily with eraser sponges.
Drain clog remover
Unclogging pipes and drains is something everyone has to do, no matter how much they watch what they spill down the drain. All the grease from food, hair conditioners, and many other things can clog your pipes. So, make sure to find a drain clog remover that can help you remove all the scum, hair, and food. Look for multi-purpose ones so that you can use them in any part of your home. And always make sure that you are wearing gloves when using these products. They usually contain harsh chemicals that can harm your skin.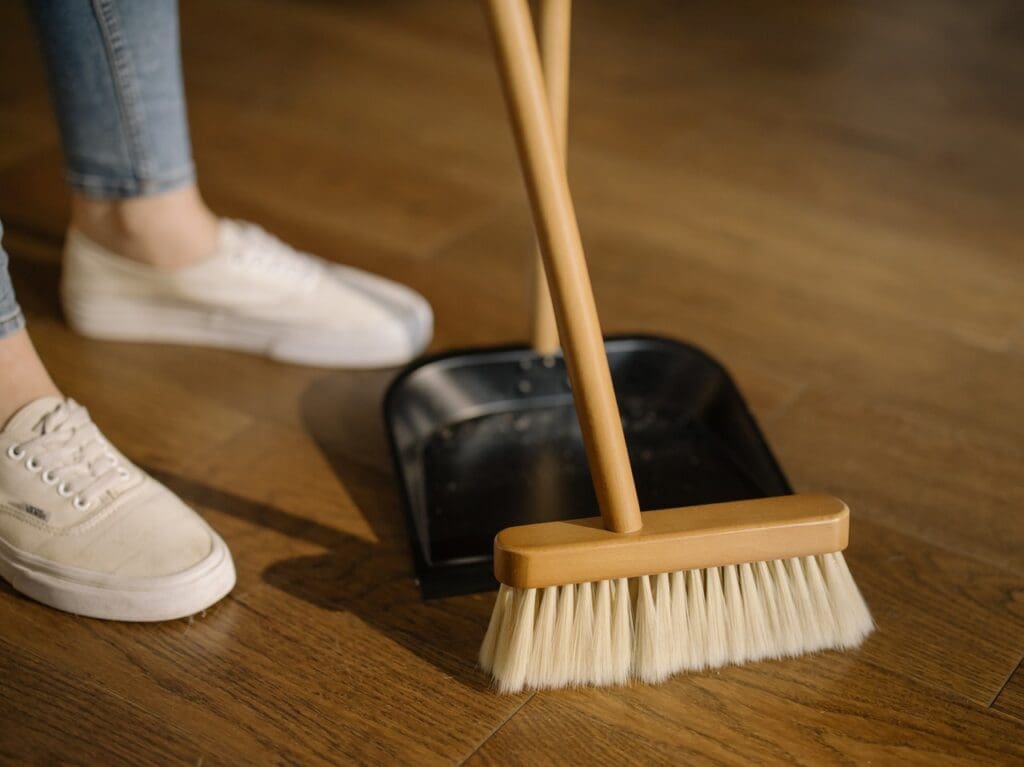 Nowadays, cleaning is a lot easier than it used to be. There are so many cleaning products out there that can allow you to make your house sparkle. If you were wondering what kinds of products you should get, hopefully, this article was helpful!
Featured Photo by Pixabay from Pexels