The following post is from Jessica of GoodCheapEats and LifeasMOM: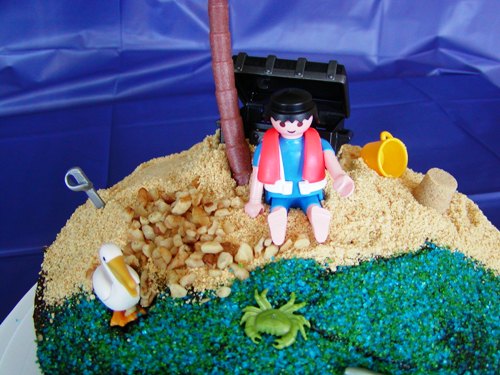 I am no cake expert. In fact, I prefer pie. But, my family loves cake.
And since they won't let me bake them birthday pies, over the years, I've learned a few tricks to making fun cakes for family birthdays and special occasions.
I've never taken a class. And I don't really get fancy with frosting, other than making it and eating it. But, this three step process can help even the self-proclaimed cake decorating failure pull off a pretty cool cake.
1. Lay a foundation of frosting on a simple baked cake.
If you are new to preparing birthday cakes, take baby steps. Don't worry about a gourmet creation. Start simple and work yourself up to a Food Network Challenge. Homemade buttercream is easy to make and delicious to taste, but feel free to use the canned variety if you prefer.
For vivid hues, use gel food coloring instead of the little dropper bottles of liquid. A little gel will go a long way. Just dab a little on the tip of a toothpick and stir it into the frosting.
Frost your cake.
2. Add edible embellishments.
Don't worry about an imperfect frosting job. Use cookie crumbs, sprinkles, candy or strips of fondant to hide the blemishes and create a scene for your birthday theme. Think third grade diorama notched up with sugar.
You'll be amazed what candy rocks and boulders can do for adding realism and sparkle to your cake. And there's a wow factor when adults and kids alike ask if they can really eat the rocks.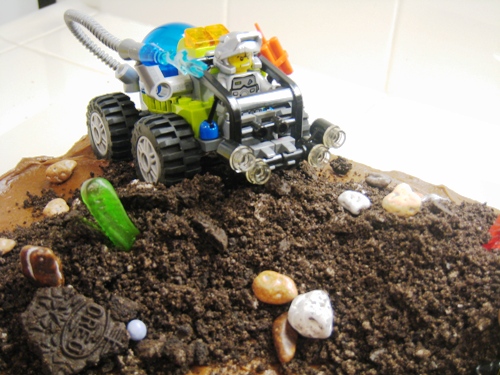 3. Position toys.
Instead of searching bakery supply stores for cake toppers, buy real toys to place atop your cake. You'd be amazed at the inspiration you'll find in a toy store. Plus, some lucky kid gets to play with the cake topper. This will make the Birthday Kid's day
What do you do to make birthday cakes special?
| | |
| --- | --- |
| | A foodie at heart, Jessica Fisher has learned to reconcile a tight budget with her love for great food. As a busy mom of six voracious eaters, she regularly shares healthy, delicious and budget-friendly recipes at GoodCheapEats. She also writes at her parenting blog, LifeasMOM. |