Winter is a magical season, especially when it comes to playing in the snow with your furry friends. But just like humans, dogs need protection from harsh winter conditions too. See more about keeping your pets warm on this site here.
Short-haired breeds are going to be more susceptible to the cold, and this is where they should get their feet to become more protected from ice-melt chemicals, salt, and snow. Most deicers and road debris are toxic to canines, so avoiding these particles from collecting between his toes can keep him safe and warm.
It's where boots made exclusively for dogs come into play because they are adorable and functional accessories. Know that some owners don't usually put them on unless they are required. Many canines need to feel the ground underneath their paws to prevent them from slipping when they are walking up a rocky terrain or climbing the stairs. However, this can be a situation when they are still healing from an injury or if they have a history of putting on boots during certain situations.
Why Should You Get a Pair?
Cold temperatures associated with winter, as well as snow, ice, and salted roads, can all take a toll on your dog's paws. That's where you need winter dog boots if the temperature reaches -10 or lower. Just like humans wear boots to keep their feet warm and dry, your pets need that same level of care too!
Snow can accumulate on their paws and cause discomfort or even frostbite. By slipping in a nice and comfortable pair, you can hike up a mountain without any issues, and they can also be more resistant to the wind chill. You can also be assured that they stay out of injuries and possible irritation.
Ice-covered sidewalks or paths can pose a real danger to your pet as they struggle to find solid footing, and this is where their footwear can offer traction on various surfaces. Features like the non-slip soles supply excellent grip and stability, reducing the risk of slips and falls during winter walks or playtime. Also, getting your pup accustomed to wearing dog boots early on will save them from unnecessary stress later in life should they ever need medical bandages or protective footwear due to an injury or surgery.
Options to Know About
Small Paws
Booties for those with dewclaws can be a good choice but choose ones that have straps. The inward pressure and material rubbing might be painful for the canines, so use a self-adhesive wrap. Let the circulation loose, don't cover the paws too tightly, and use socks on top to prevent slip-offs.
Rubbers
Balloons have their uses, but they can work well for the pups to survive the abrasive surfaces of rocks. They can be used by Pugs or Chihuahuas, and the wellies can be thicker on the sole part. This is also going to work well if you're carrying your pet to the mountains most of the way. More info about rubber at this link: https://www.britannica.com/science/rubber-chemical-compound.
Dog Socks & Boots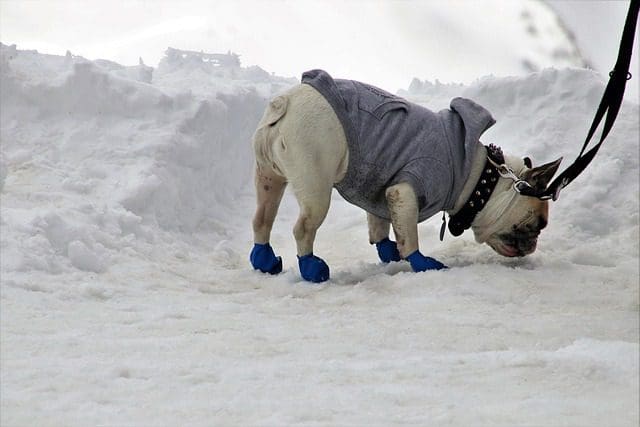 These are only for leashed pets at a shorter distance and can be a good idea to try indoors. They may also be worn when the dog is going out for a quick potty around the block, but they may not be an ideal wear to withstand the snow.
Other Factors to Look For
Neoprene does not stick with snow even if it gets wet, and this is also going to hold enough heat. They are what most of the wetsuits are made of, but they are also going to be thick. If your canines are so used to them, there are a lot of options that can be suitable for our pet.
Gaiters can also have a good height, but they are for light ice. When there's no seal on the boots, there will be no way out for the collected ice, and it can be complicated for long walks. The upside is that you can't lose it, and this is going to be nice for those dogs that don't have complaints or health issues.
Wax is also going to be good when your canine wants to gather snowballs because they can't lose it. You just have to trim the hair around the paws and apply the wax as a protective layer. It can wear over time, but this is a good idea if you're always out and about.
Available Materials
Fleece-lined ones can supply a positive winter experience for your pet, and they are more adaptive to their movements. Soles are often flexible, and these types supply extra warmth and comfort for your furry friend in snowy conditions.
Lightweight ones, like disposables, can be made of plastic and are easily slipped over your dog's paws when needed. While they may not offer as much protection as other types, they can be convenient for quick outings in light snowfall.
Featured Photo by Natalie Minich: https://www.pexels.com/