Many states in the south and western parts of the country have seen new residents since the start of the pandemic. There are various reasons for the shifts in where people have lived in the past couple of years. 
Remote work, lower living costs, and the opportunity to get more bang for your buck in terms of real estate are a few reasons places like Tennessee increasingly appeal to individuals and families. 
Tennessee has some excellent family-friendly cities and towns with outdoor activities, cultural amenities, and good schools. 
Some of the best family-friendly places to live in Tennessee include the following. 
Brentwood
Brentwood's population is around 40,000, and it's often named the best place to live in Tennessee. A suburb of Nashville in Williamson County, Brentwood was named one of the best places to live in the country by Money Magazine in 2017. 
It's a wealthy suburb with rolling hills and is also home to many famous country music singers. 
Brentwood High School is one of the best in the state, and there's a nearly perfect graduation rate. 
There are over a dozen parks in the area, giving many outdoor activity options. 
The one big downside of Brentwood is that it has one of the highest living costs in all of Tennessee. 
Franklin
Franklin is also in Williamson County, like Brentwood. The median home value is lower, so it's a more affordable alternative to Brentwood. Brentwood has great schools as well and a charming historic downtown. 
There are hundreds of restaurants in Franklin, and media publications like Garden & Gun magazine have described Franklin as the best town in the south. 
Franklin is about twenty miles south of Nashville. It's the 7th largest city in the state, despite feeling historic and charming. 
The population of Franklin is young, with around 36% of households including children, so it's very family-friendly. 
Knoxville
Knoxville is a relatively large city in East Tennessee. The city is close to the Smoky Mountains and has a lower cost of living than other bigger cities in the state, like Nashville. In 2018, Realtor.com said Knoxville was one of the most affordable small and midsize cities to call home. 
Along with being close to the Great Smoky Mountains National Park, there are a lot of outdoor and recreational opportunities within the city. People frequently get out and hike and bike. 
The climate is very moderate, and there's not a lot of snow plus, the dining scene, especially in downtown Knoxville has been thriving in the past five years. 
Knoxville locals have a lot of love and pride for their city, and many people are active in the community in various ways. 
Murfreesboro
Murfreesboro is home to around 118,000 people in Rutherford County. It's very outdoor-friendly with dozens of miles of greenway. 
It's a mid-sized city with a relatively affordable cost of living. 
Murfreesboro is only around 34 miles from Nashville, and it's considered one of the largest suburbs of the city, as well as one of the country's fastest-growing cities. The city is home to Middle Tennessee State University. 
While it's considered affordable, the one place where you might spend more in Murfreesboro than in other parts of the state is housing, especially since it is such a popular place to call home. 
There are 12 schools that make up the Murfreesboro City Schools system for elementary school. Then, once children reach their secondary education years, they go to one of 47 Rutherford County Schools. 
Maryville
Maryville is close to Knoxville and is also considered one of the gateways of the Smoky Mountains. It is very affordable and charming but also convenient. Maryville feels like a small town, and it's extremely family-friendly. If you need access to amenities you can't find in Maryville, you can make it to Knoxville in just a few minutes. 
The Maryville school district is exemplary, and the crime rate is relatively low. Maryville is often ranked as one of the state's safest cities. 
According to Niche, Maryville ranks number five among the suburbs with the best public schools in Tennessee and number six for the places overall with the best public schools in Tennessee. Maryville is ranked number 15 according to Niche for the best places to raise a family in Tennessee. 
Germantown
Germantown is a Memphis suburb. It has a low cost of living, yet the area's residential income is among the highest in the state. Germantown has an extremely low crime rate and some of the best-rated school districts. You're just around 14 miles from Memphis if you live in Germantown. 
Germantown has beautiful parks and neighborhoods, and no home within the city limits is more than one mile from a local park. There's an extensive bike trail system, and along with excellent public schools, there are many great top-rated private schools as well. 
Bartlett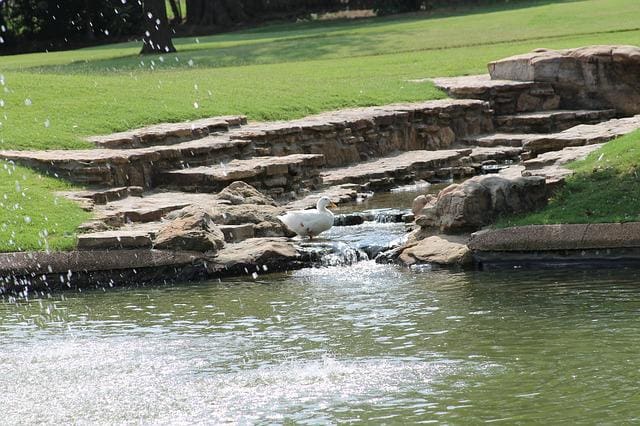 Bartlett is in southwest Tennessee, set along the borders of Arkansas and Mississippi on the Mississippi River in Shelby County. Many people who call Barlett home commute to Memphis for work. Other surrounding suburbs with an average commute time of around 25 minutes. 
Bartlett is home to a popular recreation center and the Bartlett Performing Arts & Conference Center. 
Signal Mountain
Finally, Signal Mountain is in Hamilton County and has an A+ rating from Niche. It's a suburb of Chattanooga with around 8,500 residents. Signal Mountain ranks highly as one of the best places to raise a family in the state and buy a house. Crime rates are low, and the median household income is well above the national average. 
One of the downsides of Signal Mountain is that since it is such a great family-friendly place to call home, it's tough to find a house for sale. Residents say it's taken pretty quickly when something goes on the market. 
Featured Photo by Joseph Miller on Unsplash