The following post is from Katie of Kitchen Stewardship:
When you start making changes in your family to a more whole foods or eco-friendly lifestyle (or both!), one major struggle is always, "What do I do with the stuff we don't eat/clean with/cook with anymore?"
Many of us also have frugal sensitivities, so boxes of white pasta, non-stick brownie pans and that unused bottle of vegetable oil might be cluttering up your cupboards for months (years?) after you begin to switch to the natural lifestyle.
One day while working with my 2-year-old, I realized how many of our homemade Montessori-inspired works and games used items from the kitchen and foodstuffs. 
If you have toddlers or a preschooler in your life, here are some awesome academic works and crafty activities to help repurpose the yucky stuff you don't want to use in your kitchen anymore.
Salt + Pan = Tracing Work
White, bleached out salt in a non-stick brownie pan or aluminum cookie sheet can become a work for tracing letters with texture. Also fun for random drawing!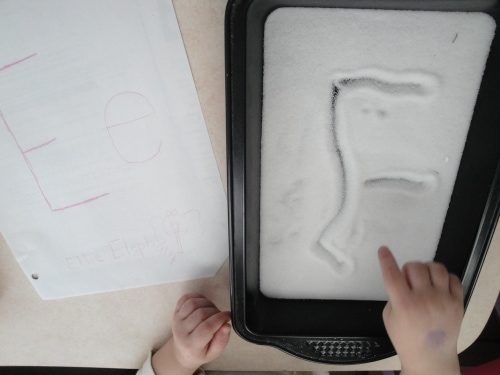 Why the white salt isn't good for you…why you shouldn't cook with aluminum…and I haven't covered non-stick coatings yet, but it's coming this fall!
Make Some Noise with Beans
Aluminum pie plates and soybeans for noise making explorations: add some measuring cups, extra spoons or ladles, boxes, tins and other stuff you don't need anymore. Got two pie plates? Tape them together to make maracas!
Why I never cooked my soybeans… (and yes, those are actually kidney and navy beans in the photo…I made this work back when beans were truly cheap enough to be purchased and not used as food!)
Working for Beans
Soybeans for chore incentives: we "pay" our kids in beans, for real, for doing their morning routine and their afternoon chores. They can trade in ten beans for an extra dessert, TV show, or dollar bill, or learn to save – fifty beans gets them a date with a parent. There's the soybeans I never cooked…
Pour Out the White Rice
If you make the switch to whole grains, your white rice makes a great pouring work with two old measuring cups or creamers (or find some at a garage sale):
Those Pesky Styrofoam Trays
Styrofoam trays become the base for weaving projects: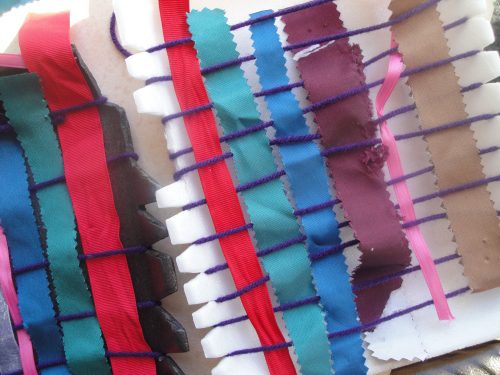 Or a work surface for playdough: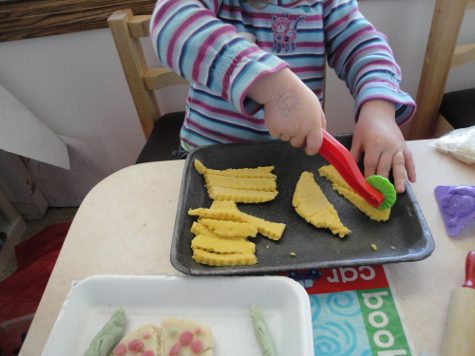 They also make decent boats with a hunk of playdough and a popsicle stick sail stuck in it.
More on the Switch to Whole Grains
Speaking of playdough, of course use your white flour and salt for homeade playdough recipes as well.
White pasta makes awesome hair and facial features for playdough and is an ideal gluing craft item: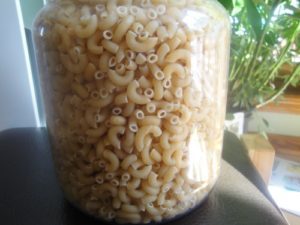 Pasta also makes for hearty counters for math activities like this one: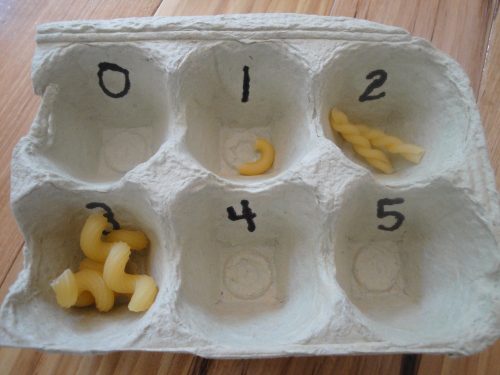 Use more egg cartons and the pasta or soybeans for a game of homemade mancala, too. Styrofoam cartons are great for caterpillar crafts.
A New Way to Mend
Lacing works can be made from old blue jeans and a tough hole punch: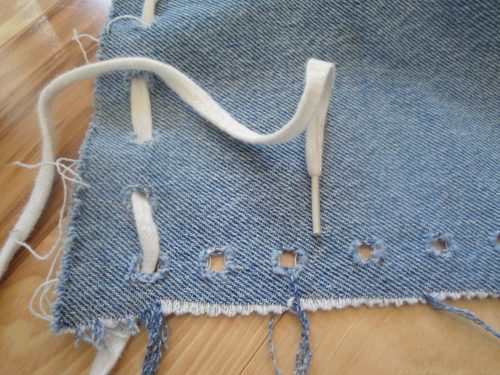 We also made all the letters of the alphabet from cracker and cereal boxes, a Sharpie, and a few old shoelaces plus the cord from a hoodie that fell out.
Play the Slot Machine
One of my toddler's favorite activities is this simple coordination work with juice and milk jug caps and an oatmeal canister. Seriously, once the risk of choking hazards has passed because the child no longer puts everything in his/her mouth, this one is hours and hours of fun (that canister is about 3/4 full of caps):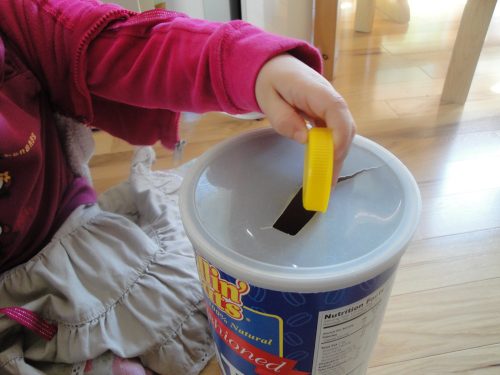 You can also do patterning activities with the colored caps and use them as math manipulatives.
An Oily Solution
Oil gone rancid? Vegetable oil you don't want to use anymore? Crack out the science experiment books for older kids and look for oil and water explorations. There are some really fun ones with food coloring here, here, and here.
Why not vegetable oil? And hey, maybe you don't want to use that food coloring anymore, either, outside the science projects.
I hope this inspires you to peek into your cupboards to find fodder for creating activities for your kiddos, whether it's to battle the summer doldrums, have a rainy day box ready to go, or prepare for fall homeschooling.
What is something you struggled to "get rid of" when you made the switch to natural living?

Katie Kimball has been "green" since 5th grade when she read 50 Things Kids Can Do to Save the Earth. She remains slightly disappointed that she didn't actually save the whole thing back then, but now that she has 3 kiddos counting on her, she keeps plugging away hopefully. Katie blogs at Kitchen Stewardship about real food and natural living and is the author of Healthy Snacks to Go and other eBooks, available for Kindle.