The following post is from Lisa of The Pennington Point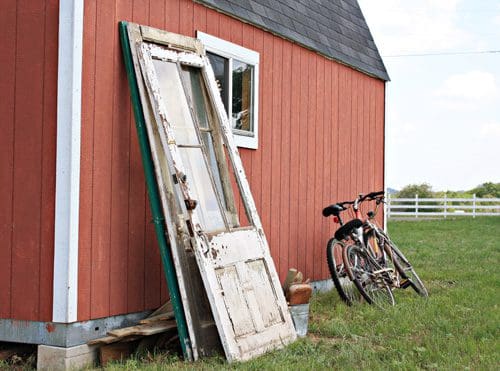 Old doors and screens can be a terrific way to fill an odd space in your home.  They add character and architectural interest to an otherwise dull spot. Plus they are usually cheap, or even free!
Let your friends and family know you are looking for old doors and you may be surprised at what comes your way.
Here are a few, easy ways to use old doors in your home.
1. Prop a screen door behind a bed.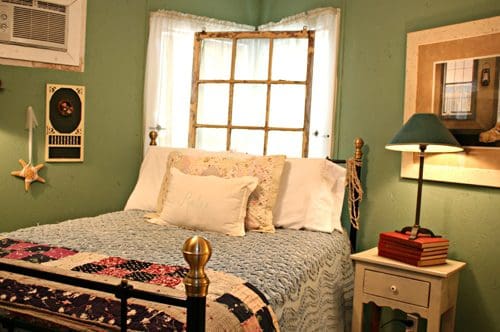 I love to angle a bed in a corner, but can be tough to find something to anchor it visually to the rest of the room.  An old screen door did the trick here.  It adds height and interest to an otherwise oddly centered bed.
2. Hang a door sideways over a large headboard.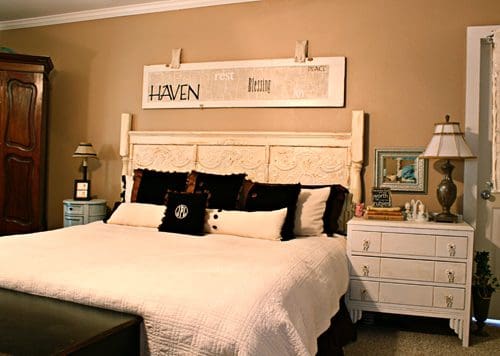 A beautiful headboard needs something simple hanging over it.  It can be really difficult to find the right thing, so how about a small door?  This door, hanging sideways, has been covered with relaxing words and old book pages.  It adds just the right amount of art without competing with the bed.
3. Use doors instead of bead board.
After repairing a leaky pipe, the plumber made a gigantic hole in the sheetrock in my bathroom.  I needed a way to cover it up.  Instead of matching the walls to the bead board in the rest of the bathroom, I lined the damaged wall with old doors to make a statement.  Doors along the wall give large personality to the smallest room in the house.
4. Hang a picture in a difficult spot.
If you have a stone wall, bricks or stucco, it can be a challenge to figure out a way to hang a picture.  Try propping an old door against the wall and hanging your art on the door.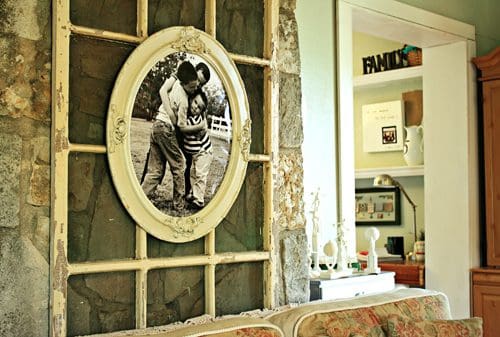 This stone wall behind our couch is very hard to drill into, so the old screen door made a terrific backdrop and I can change the picture without getting out the masonry drill bits and hearing my husband complain about too many holes.
It's also a wonderful solution if you live somewhere you can't make holes in the walls.
5. Use an old door outside.
Instead of just an address or welcome sign, try hanging something from an old door.  This door's broken glass and chipping paint caused it to be tossed in a friend's trash.  When I asked her if I could have it, she thought I was crazy.  Now that she sees how great it looks she wants it back.  Sorry sister.  It's mine now. (Yes, we bolted it to the tree.)
An old door or screen can be a great way to add height and personality to a lifeless spot in your home.
Is there a place in your home where you could use an old door or screen?
Lisa winds through her little Texas farm house every night, tucking in her nine homeschooled children and turning off lights. Then she scans the rooms & makes a mental list of what she wants to rearrange, restore or paint. Her husband of 25 years hangs on for the ride while she blogs about it over at The Pennington Point.