Play-based learning is an educational approach that focuses on children exploring their world through play, hands-on activities, and creative projects. This type of learning encourages problem-solving skills, teamwork abilities, and imagination development, and it is something that early education centers like Gowrie NSW encourage all parents and caregivers to consider! It is also beneficial for parents who work from home or are looking for ways to encourage remote learning with their kids.
Related reading: 8 Activities to Help Your Children Grow and Keep them Engaged
Why is play-based learning important?
Play-based learning has been shown to increase children's motivation and independence. These benefits can be seen in areas such as interpersonal relationships, self-esteem, and problem-solving skills. It also encourages creativity in children since they can explore their world through different projects rather than just sitting still or watching something on the TV.
What age range is play-based learning appropriate for?
This type of teaching can be used with children aged 0-16. However, play-based learning is best for children between the ages of 0 to 12 years old since they are still developing crucial skills at this age range.
How can parents encourage play-based learning at home?
There are many ways to incorporate this type of teaching into your child's daily activities. You could start by exploring a new area of your neighborhood, going on a walk with children, and asking them to identify different objects in their surroundings. You can also create a DIY project with children, such as painting a mural at home or making an indoor fort.
What is the difference between play and play-based learning activities?
While both provide children with a fun, safe environment to learn in, there are some key differences between the two. The play focuses on children's imagination and creativity, while play-based learning encourages specific skills in different areas like science or language. This is why play-based learning can be a great supplement to children's natural curiosity and love of playing!
Craft Ideas to do at home
If you want to learn how to use craft activities as a way of encouraging play-based learning at home with your child(ren), this blog post is just what you need! From toddlers to preschoolers and beyond, here are some craft ideas that you can do with your kids.
Painting abstract art on canvas or paper pipe cleaners, cotton swabs, glitter, sponges, and/or toothpicks

Making a family game night board out of cereal

Creating "things" with Play-Doh

Creating paper bag puppets for acting out stories together

Making favorite foods for dinner but shaped into different forms 

Making watercolor paintings and then adding glitter and other fun embellishments to them.
Other (non-craft) activities you can explore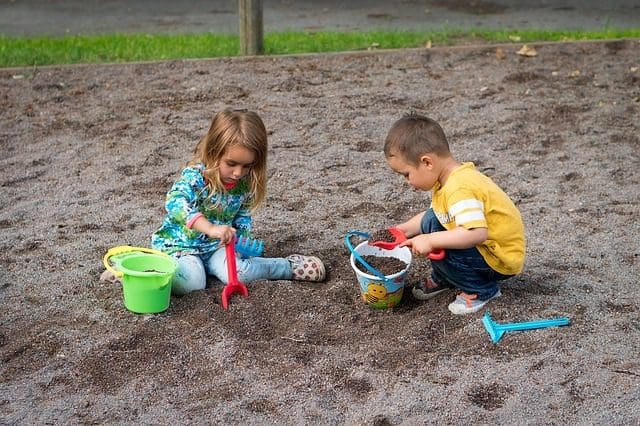 Creating slime with household ingredients and playing with it together

Creating an obstacle course for siblings to go through together

Blowing bubbles and catching them with a bubble wand

Building LEGO structures such as towers, castles, or abstract vehicles

Building a sandcastle on the beach

Creating a fort out of blankets, chairs, or pillows

Making a family reading nook in the living room and taking turns reading books, magazines

Building a treehouse or other play structures in the backyard

Building a train out of blocks or other construction toys.
In conclusion, play-based learning is an important teaching approach that stimulates children's growth in different areas. Parents can encourage this type of learning by doing fun projects at home with their kids, such as painting or making crafts together!
Featured Image by Rick Siderfin from Pixabay