Backcountry skiing is the ultimate thrill for the world's most dedicated and passionate skiers and riders. The feeling of slicing through pristine, untouched powder is hard to put into words. Many adventurous skiers spend their entire lives searching for that perfect mountain, snowy heaven hidden high above the clouds. 
While it can be fun to check out each mountain for yourself and form your own opinion about the various backcountry ski areas, it's also helpful to hear what other people say about these options. Narrow down the choices to just a handful of mountains, and you can ensure that your next backcountry ski trip will be a breathtaking, unforgettable experience. 
Whistler Blackcomb, British Columbia, Canada
With the pride of British Columbians and a real backcountry Mecca for skiers worldwide, Whistler Blackcomb has a near-legendary reputation. This ski resort includes expansive slopes on two separate mountains: Whistler and Blackcomb. That being said, you'll need to veer off the marked trails if you want to experience the best that this Canadian mountain has to offer in terms of backcountry skiing. 
With 8,000 acres of skiable terrain, Whistler Blackcomb is the largest ski resort in North America. Because of this incredible expanse, there is plenty of space to enjoy backcountry skiing near this resort. There are just as many backcountry trails as groomed runs. Some of these trails extend across the Coast Mountains and situated well outside of the main resort area. 
Part of what makes Whistler Blackcomb such an incredible backcountry skiing destination is that its operators recognize that qualified, experienced skiers are well within their rights to head off the main groomed trails. You won't face any negative consequences for backcountry skiing here, and staff members welcome and encourage you to tackle the untamed wilderness while providing guidance and general safety tips. 
When you head off into backcountry territory, you'll find a stunning range of varied terrain waiting for you in the Whistler Blackcomb area. These include alpine bowls, steep line drops, and plenty of tree-lined runs. If you're up for a challenge, these backcountry areas will genuinely test your skiing abilities. 
A local favorite is the Spearhead Traverse, which takes you across 35 kilometers in an epic journey that can last up to four days. You'll traverse 13 glaciers and 11 towering mountain passes on this incredible trek. Mt. Pattison is famous for its high difficulty level, while Cowboy Ridge is easy to access and beginner-friendly. Wherever you choose to go, it's probably a good idea to enlist the services of a qualified guide. 
Hakuba, Japan
Located on Honshu Island in Japan, Hakuba is one of the best places to go if you're on a never-ending quest for the best powder on Earth. This mountain is famous for its near-constant snowfalls, and you know what that means: fresh tracks aplenty. Head to Japan for a backcountry skiing question, and you'll find yourself in the steep, high Japanese Alps around Hakuba. These mountains are more challenging than the volcanic ranges further North in Japan, and they offer a wide range of utterly untouched terrain. 
Hakuba offers access to the steep chutes or wide-open glades that are common in the Hilda Mountains. A lot of people dismiss Hakuba and go to more popular ski resorts in places like Hokkaido. However, Hakuba is something of a hidden gem in Japan. Tourists tend to avoid Hakuba because of the heavy snowfalls associated with its proximity to Japan's Sea. However, this aspect of the mountain perfectly combines with its rugged terrain for an ideal getaway for powder junkies. Many experienced backcountry skiers also appreciate the absence of large crowds of tourists. A less touristy resort equates to a more genuine cultural experience with traditional Japanese architecture and food. 
If you're heading to Hakuba, be sure to check out Happo One. This ski resort once hosted the 1988 Winter Olympics, and it offers a wide range of incredible backcountry trails. Shiga Kogen is another excellent option for skiers on the search for incredible backcountry trails. Other reliable options in the Hakuba area include Nozawa Onsen and Myoko Kogen.  
Jackson Hole, Wyoming, USA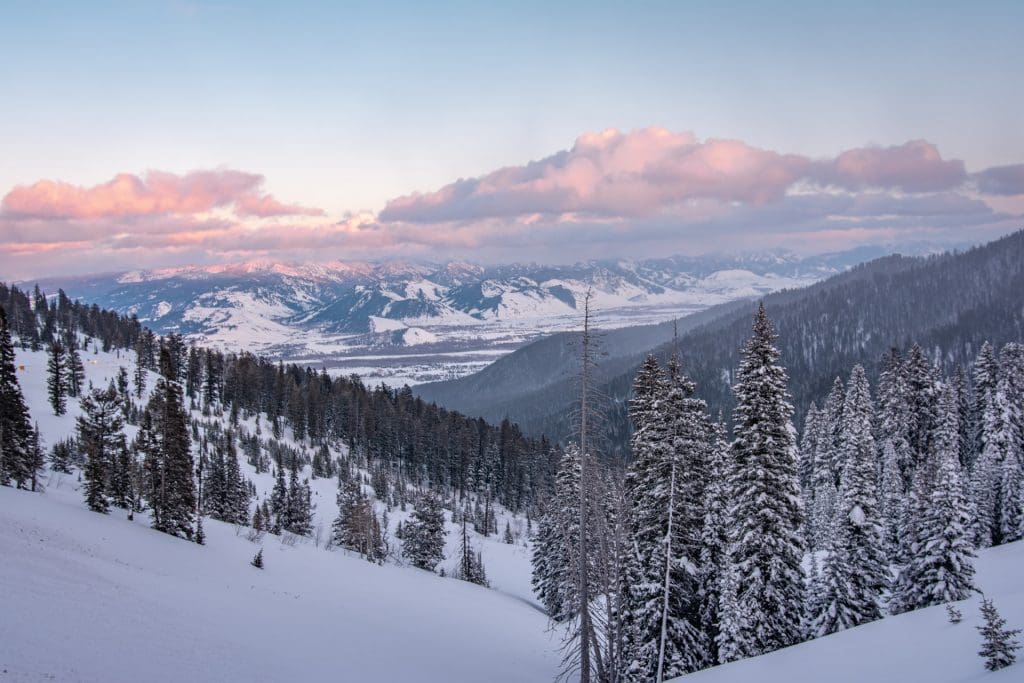 Located in Wyoming, Jackson Hole has become one of the most popular destinations for backcountry skiers in the United States and worldwide. Jackson Hole has a reputation for being quite difficult, which will be music to the ears of experienced skiers and riders. In 1999, the resort first made it legal for skiers and split-boarders to head out of bounds and experience the stunning terrain surrounding this pristine ski paradise. 
As previously mentioned, you can expect a serious challenge from the slopes at Jackson Hole. Backcountry trails are incredibly steep, although you can find plenty of beginner-friendly slopes if you know where to look. Again, it's definitely worth hiring a local, experienced guide if you're heading to this mountain for the first time. 
If you're searching for the best spots near Jackson Hole, you might want to start with 25 Short. This is considered the easiest backcountry peak in the area, but it's still challenging and stimulating enough to be enjoyable. You can expect tight trees, open glades, or gullies – depending on what route you choose as you ski down the mountain. Teton Pass is another very popular option.  You can access Mount Glory, Coal Creek, and the Stateline from this incredible area. Another local favorite is Maverick, which represents a significant step up in difficulty from 25 Short. 
Conclusion
There are plenty of other fantastic backcountry skiing areas across the globe.  You shouldn't limit yourself to just these three. Part of the thrill of backcountry skiing is the joy of exploration.  Following a pre-set guide kind of defeats the purpose. The main thing is finding the time and inspiration to get out there and enjoy nature's incredible splendor during the winter. As long you're enjoying yourself as you rip through powder, it doesn't matter where you are. Start planning your winter vacation now.
Featured Image by Jörg Vieli from Pixabay