Inarguably, Singapore is an ideal Asian destination for any kind of holiday. Nature escapes, romantic interlude, kid-friendly vacations, leisure, and retail therapy – you have a list of amazing experiences of your choice to look forward to in Singapore. However, Singapore has only two main seasons – wet and dry. The country is hot and humid throughout the year with monsoon spells in certain months. So what should one do if traveling during monsoon months? Absolutely nothing to worry about as Singapore has loads of indoor creative activities and attractions to keep you entertained on gloomy rainy days. Here's a list of things to do in Singapore on a drizzling day. Tourist secrets of things to do in Asia.
Go Museum and Gallery hopping.
If you felt museums are boring, these assumptions would be put to rest when you visit Singapore's fantastic assortment of museums. Discover an amazing collection of museums, galleries, and exhibitions that showcases Singapore's love for heritage, culture, and arts. The country with its multi-ethnic mix and passion for creativity has a wide range of genres that includes science, arts, and vintage collections, cultural exhibits and even eccentric themes such as optical illusions and toys. Here are the prominent ones you need to check out on a visit to Singapore.
National Museum of Singapore – Get yourself acquainted with Singapore, it's past and growing years to becoming a world-renowned destination. National Museum of Singapore gives you a glimpse into Singapore's story – its heritage, culture, and history.
Singapore Science Centre – Explore the world of science and technology through countless interactive and innovative displays. Singapore Science Centre is a great way to learn and discover interesting facts in creative and enjoyable experiences that keep anyone interested irrespective of age.
National Gallery Singapore – Take a journey through Asia's artistic splendor at National Gallery Singapore. Set within two National monuments – City Hall and the former Singapore Supreme Court, it is home to the biggest public collection of Southeast Asian art in the world.
ArtScience Museum – Developed as a part of the iconic Marina Bay Sands Singapore – one of the most popular Singapore attractions, the lotus-shaped ArtScience Museum is nestled at Singapore's premier architectural cityscapes. Blending the awe-inspiring world of art and science, it houses world-class exhibits from these fields in contemporarily designed galleries.
Trick Eye Museum – Is this real? How is this happening? You will keep asking these questions to yourself at the Trick Eye Museum Singapore. Located at Resorts World Sentosa Singapore, this museum literally lets your imagination run wild. The Trick Eye Museum displays 90 artworks that meddle with optical illusions to create bizarre scenarios that are hard to describe.
MINT Museum for Toys – If you love toys and collectibles, check out MINT Museum for toys that have a collection of over 3000 vintage toys. Named as an acronym of 'Moment of Imagination and Nostalgia with Toys', this is truly the feeling you will get at this extraordinary museum.
Venture out on a Singapore indoor nature attraction tour
Singapore has an impressive collection of nature-related attractions, but there are many which are indoors that can act as an escape during a monsoon day. Here are two of the famous nature-themed Singapore points of interest which you can enjoy on a wet, rainy day.
Gardens By The Bay – The brand new icon of Singapore – the sprawling landscape of Gardens by the Bay is a delight to experience. If there is a slight drizzle you can enjoy the refreshing natural vistas of SuperTrees. However, if there is a downpour, then head to the gorgeous greenhouses such as  Flower Dome and Cloud Forests. Marvel at hundreds of blooms and lush foliage at these state-of-the-art conservatories which also comprise of the world's largest indoor waterfall.
SEA Aquarium
Discover the wondrous underwater realm at the magnificent SEA Aquarium. Located at Resorts World Sentosa, this stellar oceanarium is one of the largest in the world. It lets you peek into the marine life teeming with countless colorful aquatic fishes and exquisite marine mammals. You can also gear up for marine animal encounters and diving sessions at SEA Aquarium.
Indulge in Spa wellness
Enjoy rainy days in Singapore in bliss, pampering yourself at serene Singapore spas. Splurge a bit to refresh your mind, body, and soul with some of the best wellness therapies at these elegant spas in Singapore. The experience would be totally worth it!
Yunomori Onsen and Spa – Immerse yourself into a blissful blend of Japanese and Thai relaxation techniques. Indulge in some head to toe pampering Thai massages and spend the day soaking up in Japanese onsen baths.
Spa – Located on the outskirts of Geylang, G.Spa is a nature-inspired spa retreat that lets you have a pampering session any time you want. The Spa is open 24 hours which means you can walk in for a relaxation experience late at night. It offers you a wide range of wellness amenities to choose from such as hot pools, sauna, and jacuzzis, relaxing massage regimes, lounges areas, and VIP treatment sessions. You can even relish an all-day buffet-style dining experience here.
Remede Spa at St. Regis Singapore – Focusing on the water as the main rejuvenating element, Remede Spa is a one of a kind spa haven that offers a rejuvenation experience through water-based wellness techniques. Quench your soul with the revitalizing treatments of the hammam, European snow cleansing techniques, shower massages, and bathing rituals.
Enjoy indoor adventures and sports
There are tons of activities in Singapore both indoors and outdoors for adventure lovers. On a rainy day, gear up for an exhilarating day at some of the best indoor activity areas of Singapore.
Climb Central Singapore – An indoor adventure playground that lets you display your rappelling skills, this sporting arena offers a variety of walls with different difficulty levels and heights for all ages to climb. It is beginner-friendly and offers all the necessary precautions for your first climb. Experienced climbers can try their skills in advanced climbing setups. Even kids can have a gala time at child-friendly, easy to follow climbing walls and have an exciting day as well. Climb Central is located at two spots in Singapore –  at Kallang Wave Mall and Novena Square.
iFLY Singapore – How about going skydiving on a rainy day? Well, you can get the same experience of soaring in the air without having to jump off a plane at iFly Singapore. This Singapore recreational arena lets you experience the thrill of skydiving indoors. You do not need to be frightened of height, nor feel the jittery nerves of leaping out of a plane thousands of feet above the land. All you need to do is stand in a wind tunnel that would simulate a free-falling experience with all harness and safety procedures in place.
The Rink – Go skating during a downpour, only you wouldn't get drenched a bit. The Rink is an indoor ice skating venue perfect to enjoy some fun time skating on a dull and wet day. Get your skating shoes on or buy new one from wowskates.com.au if you don't have them, and teach yourself some new skating techniques or simply enjoy gliding on the ice rink keeping your balance in focus and avoiding falling down. Kids above the age of 3 can also join in on the fun with grownups.
For kids, there are plenty of options to choose for having a thrilling day during monsoons in Singapore. Let your kids spend time in Singapore making delightful memories at Snow City, Bouncing Kids, Kidzania, Amazonia, KidsStop to name a few.
Shop and dine as much as you like!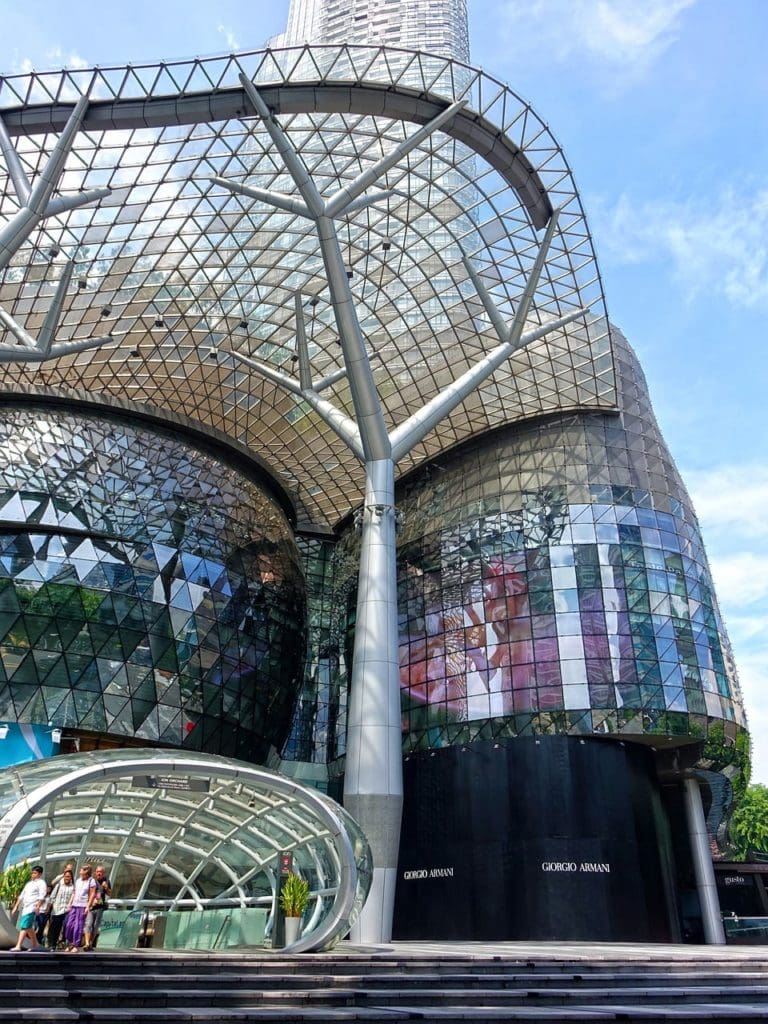 The two most important leisure activities that you should not miss in Singapore even on a rainy day is shopping and dining. In fact, these are Singaporean's favorite pastimes and the country is home to a plethora of shopping and dining areas. Whether you are a shopaholic or a food lover, there are impressive arcades to satisfy both of these temptations. Some of the popular shopping malls in Singapore are Plaza Singapura, VivoCity, ION Orchard, Paragon, 313@Somerset, Mandarin Gallery. Here you can shop for branded merchandise, electronic goods, artifacts, fashion apparel, and memorabilia. These shopping hubs also offer plentiful options for a scrumptious gourmet journey.   Plaza Singapura has an amazing array of restaurants that cater to International and Oriental cuisines. Certain restaurants to check out at ION Orchard are Salt Grill & Sky Bar, Itacho Sushi, Marugame Udon & Tempura, and Putien to name a few.  Make sure you take the opportunity to sample as much of Singapore's epicurean delight on your trip.
Even if you have realized after getting your Singapore visa done that your travel dates are clashing with the monsoon season of Singapore, you can still go ahead with your holiday with some tweaks and make it suitable for a monsoon Singapore holiday. Singapore is a fun and happy place to visit and would not let the monsoon dampen your vacation spirit. Mostly Singapore's monsoons last from September to February, but there is no guarantee if you would witness tropical sunny days in other months of the year. So it is best to be prepared for the unpredictable weather and ensure that you carry all the things needed to rent a car and you have a backup travel plan made which includes these Singapore indoor activities in case the weather decides to be a spoiled sport.
Image credits; Image credits