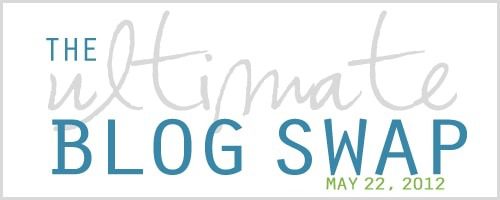 Today is the second Ultimate Blog Swap, and I'm so excited by the quantity and quality of the blogs who are participating! With more than 100 blogs signed up for today's swap, you're sure to discover some new favorites along the way, so grab a cup of coffee, pick a random blog from the list below and start blog hopping!
Here's how it works: Each blogger listed below is posting on another blog today and, in exchange, someone else is posting on their site! That means, theoretically, that you could start anywhere on the list and follow their Blog Swap links to find another great post and then another and then another.
Enjoy!
Adventures in Life, Love and Librarianship
Another Day in a Mom's World
Bake Break!
Bump Life
Cajun Joie de Vivre
Cajun Sugar Pie
Call Her Happy
Christian Mommy Blogger
Clara's Closet
Clean, Smart, Simple Style
Cooking, Crafting & Opinions Galore!
Coping with Frugality
Coupon Cutting Mom
Dainty Mom
Feeding My Sunshine
Food Snob St. Louis
Fresh Plate
From Dominique's Desk
Getting Freedom
Graceful Girls Brave Boys
Growing Up Gabel
Happy Little Homemaker
Homemakers Daily
I Dream of Clean
Intentional by Grace
Jennifer's Life Between
LIFE by Ashley Pichea
Modern Alternative Mama
Mom Drop Box
Mom's Mustard Seeds

More Than Mundane
Mostly Food and Crafts
My Favorite Finds
Northern Cheapskate
Oak Bay Drive
Organize 365
Pandora's Deals
<a href="https://practicallypatientlyparenting.wordpress.com/2012/05/22/mommy-efficiency-how-to-get-out-of-the-door-before-its-time-to-come-home-again/" target="_blank"Practically Parenting
Quick and Easy Cheap and Healthy
Quintessentially ~ Kate
Royal Baloo
Saving By Making
Serendipidy ScrapNook
Slow Your Home
Spoon Fed Baby
Stacy Makes Cents
Tan/Green
The Catholic Couponer
The Encouraging Home
The Fruitful Home
The Holistic Mama
The Millionairess in Training
The Purposed Heart
The Well-Rounded Home
Untangling Tales
Warrior MAMA
Weird, Unsocialized Homeschoolers
Yeah Baby It's Cold Outside
Young Wife's Guide
Your Thriving Family
Do you want to be notified next time we do an Ultimate Blog Swap? Sign up here!