The following post is from Rachel of The Minimalist Mom: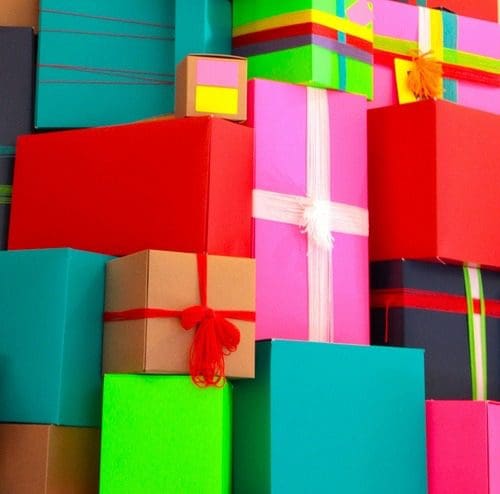 "Everytime you smile at someone, it is an action of love, a gift to that person, a beautiful thing."
― Mother Teresa
When you have five siblings and a growing group of nieces and nephews, holiday gift giving can quickly become both a huge financial commitment and a lot of work. In my early 20's, I started to dread the gift giving season a little more each year.
After some discussion with other family members, I found out I was not alone in feeling burnt out and broke from our holiday gift giving. Christmas had quickly become a bigger expense and stress than any of us wanted it to be.
So, we stopped giving presents to each other and started giving more time. My brother hosted all of us in his home for a few days. We played ping pong and went sledding. We all wrapped up a small gift and had a long and loud game of Yankee Swap. Instead of spending hundreds of dollars on gifts for each other, we contributed financially to a charity of our choice.
The gift of each other time has proven to be the most memorable gift my siblings and I have given each other in recent years.
As the holidays loom take a closer look at how you can give without wrapping something up.
It doesn't have to have a gift tag to have meaning.
It doesn't have to come with a receipt to count as a gift.
Here are some ideas for ways to give that will not only help you save money but give the gift of good memories, skill, and joy that will last far longer than anything you could have bought in a store.
Gift your expertise.
If you have a unique skill, chances are you have a friend that could make use of that skill. Bloggers can help their friend with a new small business start a website. If you sew, you can teach a friend how to hem a pair of pants or how to repair clothes by hand. If you're an avid runner support a friend in their couch to 5k program by running with them once a week. There are so many ways to give that go beyond something that requires wrapping paper.
Gift your time.
The pace of family life can leave people spinning and that pace intensifies as the holidays get closer. Offer to pick your neighbor's children up from school during a busy time or have a child over for a sleepover when you know a set of parents could use a break.
The holidays are also a difficult time for those that don't have family close by or are alone. Take an afternoon to visit someone you know that is isolated or having a difficult year. Bring them companionship and cheer and something festive to nibble on as you catch up.
Gift your love.
As my husband often says, nice is underrated.
Have you ever made a mistake and the person who should be most upset by it tells you not to worry about it? Has it not been a fantastic gift when someone easily forgives you when you accidentally inconvenienced them?
Give those around you your best self for the holidays. Give them your love and forgiveness without the thought of receiving anything in return.
What gifts do you give, or receive, that aren't bought at a store?

Rachel Jonat is a world medalist rower turned marketing professional turned SAHM/writer. At The Minimalist Mom, Rachel writes about living a rich life with less stuff. Currently living on a windswept island in the middle of the Irish Sea, Rachel owns two pairs of jeans, loves taking the bus and is attempting to become a tea drinker.