Outdoor spaces are very relaxing and entertaining, especially when you want to take a break from house chores for a bit. Thus, shopping for outdoor furniture is as important as picking your indoor furniture in means of quality and durability. And it deserves the same amount of care and attention and could be as much fun for you and your family.
Since patio furniture is frequently more exposed, there are extra factors you would need to consider beforehand when trying to complement your garden or outdoor space with new pieces like a patio cover made with aluminum patio cover kits.
Weather-Proof Furniture and Fabrics.
The most crucial factor of all when choosing patio furniture is the weather since. The furniture should be able to stand the seasonal weather changes. So ask yourself the following questions:
Is the weather hot and droughty?
How often does it rain?
Do you live near an area of high humidity?
Hot and droughty weather can cause some types of wood to splinter. Windy surroundings can damage aluminum furnishings, while excessive moisture may spoil wicker. 
Size and Shape
Considering your outdoor space size is important. When picking up furniture for patio, you need to keep into consideration the empty spaces left between pieces of furniture so you can move freely. If you happen to have a narrow space, a bar table would be a perfect choice rather than opting for a traditional table outdoors.
Multi-Purpose Furniture
Picking pieces that serve multiple purposes is a great added value. Why buy two pieces when you can buy one piece that serves a dual purpose?
For example, a bench that can turn up into a dining table or puffs with storage compartments. Choosing a piece that serves two purposes gives you more space to move around comfortably. As well as adding more decorative elements to your patio.
Comfort and Quality
Outdoor spaces are meant to be for relaxation. So, while choosing aluminum patio furniture, you must make sure that it is comfortable enough for you. If the chairs and couches don't come with pillows, consider buying or making your own. Shop with care and choose good quality furniture and fabrics that can sustain all environmental factors without fading or molding. It is recommended to store your pillows in a dry place during the rainy season.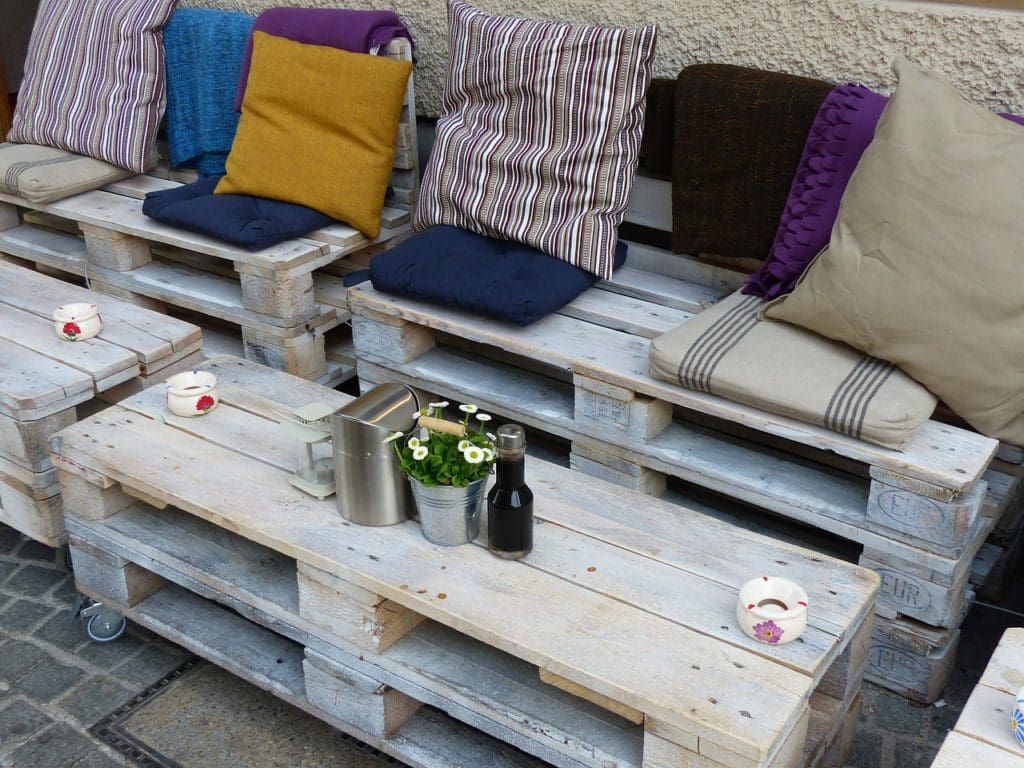 Storage Space
Caring for your patio furniture is important to keep it looking good and well-maintained. It is recommended that you have a storage space where you can store most of your outdoor furniture when it is raining. So make sure you have sufficient storage space before deciding which patio pieces you are going to buy.
It is also recommended that you buy pieces that can easily be cleaned with a damp cloth or simply just hosed off.
Furnishing and decorating your outdoor space comfortably and efficiently is a matter of great importance. Gardens and patios could be calming and relaxing spots to enjoy the sun and step out of the house for a while. You need to make sure that the furniture you choose is relaxing as well.
While picking up furniture for your patio or garden, make sure to take into consideration all the environmental and weather elements that might damage your newly bought pieces. Also, if you happen to have kids or pets, then consider water-proof and easily cleaned furniture.
Choosing comfortable seating for your back and legs is of utmost importance. Also, cushioning them with pillows makes the furniture more comfortable. Furthermore, it is important to consider storing your patio furniture during the rainy season. Even if you are traveling away, to ensure that your furniture is kept safe and stays good-looking.