Have you ever wanted to have a furniture collection that can be used in both indoor and outdoor settings? 
Furniture is a major factor in how we decorate homes. It can be the centerpiece of a room or just one element of a more comprehensive design. Some people like to use furniture in both indoor and outdoor settings. 
This article expounds on some of the furniture you can use indoors and outdoors.
1. Wire Chairs and Tables
Wire chairs and tables are the types of furniture that you can use in both indoor and outdoor settings. These are made from metal tubing that is covered with a mesh fabric. It is a sound design as it gives strength to the structure and makes it easy to clean around the seat cushions or seats. You can use this furniture in gardens, parks or even restaurants. 
They can also be used on patios or terraces, which will last for years. This is because they have been designed to withstand outdoor conditions.
These need not be assembled when you buy them. They come ready-to-use hence saving time during installation. Compared to using plastic chairs and tables outdoors, these are entirely different because they give people more room between each chair and table since the spaces are larger due to the steel tubing. People love how these chairs look when placed outdoors, with their unique design giving them an extra touch of style.
2. Bistro Sets
Bistro sets are another common type of outdoor furniture that you can use in your garden, terrace, or patio. These come as a set of 2 chairs and a table. They are made from steel and have a white finish on them.
The bistro set will come complete with a table and chairs having matching cushions for the seat and backrest. It is best to buy the complete sets as it is hard to match the seats, tables, chairs, and cushions all separately. This will ensure that they all fit together well since they are already in one package.
When buying these, you need to ensure that they have been treated with UV protection as they will be exposed to harsh weather outdoors. This ensures that they last longer.
3. Metal Stacking Chairs
These are very different from wooden stacking chairs because they are made from steel tubing than wood. Like every other type of furniture, these are also made from steel tubing and have a powder-coated finish.
They come in an assortment of different colors, like red, white, blue, and green, to name just a few. They are available in many different designs with cushions for the seat and backrest.
4. Patio Chairs
The patio chair is mostly found in gardens or patios all over. It is made from wood and has a plastic, stainless steel, or wicker seat with a cushion. You can buy models that already come with cushions attached to them too.
Some of these will also have vinyl backs attached, making them very convenient when you want to sit outside during the summer or rainy season. You don't get water on your clothes. 
5. Rocking Chairs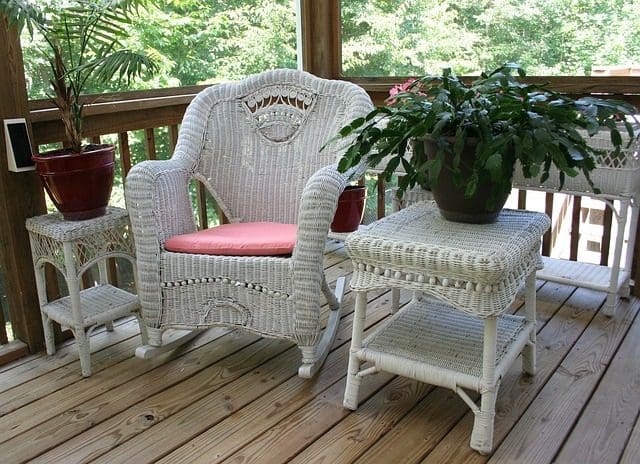 While rocking chairs are mostly used in gardens, they are a beautiful addition to your indoor and outdoor space. These are usually made from wood and have seats with cushions or already come with a cushion attached. They also have a nice finish coating to prevent them from getting wet and rusty.
Unlike other garden furniture that you can find, some of these come in different designs, and you can easily purchase them if you have a bit of extra cash on hand. Just make sure that they don't get damaged by the rain while they sit outside. Some of these models even have wheels attached to them, which makes it easier for you when you want to move them around.
6. A Designer Sofa Set
This is another common type of furniture suitable for indoors and outdoors. These designer sofas are often associated with extra-large or small garden furniture and can be used to accentuate your home. They can be designed by anyone who has a great sense of style, and they could stick to whatever theme or color you wish for your garden or indoor space.
They are often made from metal, plastic, wood, cement, and even concrete. The material used for the cushions will also vary depending on what kind of chair you will purchase. Most people have a modern sofa design in their garden because it complements their home's interior décor.
Conclusion
Outdoor furniture is not just for your garden. It can also add an element of comfort and relaxation to your living room. Whatever you choose, make sure that they are versatile enough to use both indoors and outdoors. 
Featured Image by THANH TUẤN NGUYỄN from Pixabay