The Philippines, an archipelago of over 7,000 islands, is a destination where emerald rice fields, buzzing megacities, smoldering volcanoes, and warm, welcoming people come together to create a kaleidoscope of vivid experiences. From the powdery white sands of Boracay to the lush chocolate hills of Bohol, every island has a unique story to tell. To truly experience the essence of this vibrant country, a well-planned itinerary is essential. In this comprehensive guide, we unravel the best Philippines itinerary travel packages that promise to deliver the essence of this beautiful country.
The Ultimate Luzon Expedition
Duration: 10 Days
Luzon, the largest island in the Philippines, offers a slice of Filipino life in its most dynamic form. The expedition begins in the bustling metropolis of Manila, where the historic Intramuros and the modern Bonifacio Global City starkly contrast each other.
Discovering Manila's Melting Pot: Spend two days exploring the Spanish-era churches, indulging in the street food scene, and diving into the night markets.
Banaue Rice Terraces & Sagada: Travel north to witness the UNESCO World Heritage-listed Banaue Rice Terraces. The road trip continues to Sagada, where hanging coffins defy gravity and traditions. Spend your days trekking and getting to know the indigenous culture.
The Volcanic Wonders of Albay: In Albay, the majestic Mayon Volcano awaits, offering opportunities for ATV adventures on its lava trails. Nearby, Cagsawa Ruins tell stories of past eruptions.
La Union Surf and Sand: The trip winds down with a surf lesson in the laid-back coastal town of La Union, a perfect spot to relax and reflect on the adventure.
The Visayan Voyage
Duration: 12 Days
Embark on a voyage across the enchanting Visayan islands, a region that boasts some of the best beaches and marine life in the world.
Cebu City's Historical Lure: Begin in Cebu City, exploring Magellan's Cross, the Basilica Minore del Santo Niño, and Fort San Pedro. Don't miss out on the local delicacy, Lechon.
Bohol's Chocolate Hills and Tarsiers: Next, a fast ferry takes you to Bohol to marvel at the Chocolate Hills and meet the tiny tarsiers in their natural habitat.
Island Hopping in Palawan: From Bohol, fly to Palawan, where El Nido and Coron's island-hopping tours await. Spend your days snorkeling in crystal-clear waters, kayaking through lagoons, and beach-bumming on hidden sandbars.
The Bliss of Boracay: End your Visayan adventure in Boracay. After its rehabilitation, it's once again a pristine paradise perfect for sunsets and sailing.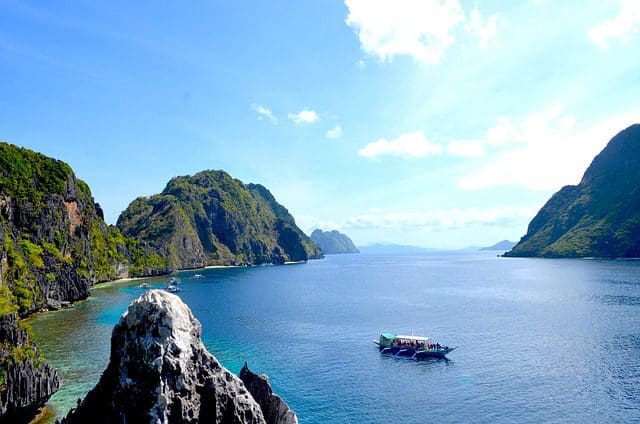 The Mindanao Discovery
Duration: 8 Days
Mindanao, the second-largest island, is often overlooked due to its tumultuous past. However, it's home to some of the Philippines' most stunning landscapes and cultural heritage.
Davao City's Urban Beat: Starting in Davao City, engage in its vibrant food scene and visit the Philippine Eagle Center to see the majestic national bird.
The Enchantment of Enchanted River: Journey to Surigao to swim in the Enchanted River's mesmerizing shades of blue. Nearby, Tinuy-an Falls offers a refreshing experience.
Camiguin Island's Natural Splendor: Camiguin Island beckons with its hot springs, cold springs, and the sunken cemetery. The island's charm is in its simplicity and natural attractions.
Siargao's Surfing Haven: Conclude your journey in Siargao, the surfing capital of the Philippines, and unwind on its world-class waves or simply laze under the coconut trees.
Northern Adventure & Heritage Loop
Duration: 14 Days
The Northern Philippines is a region of natural beauty and rich heritage. This loop takes you through spectacular mountain landscapes and historical sites.
The Historic City of Vigan: Walk down Calle Crisologo in Vigan, an impeccably preserved Spanish colonial town and a UNESCO World Heritage site.
Pagudpud's Coastal Charm: Up north in Pagudpud, the beaches rival those of the more famous islands. The Patapat Viaduct and Bangui Windmills provide a scenic backdrop for stunning photos.
Batanes' Breathtaking Views: Further off the northern tip, Batanes awaits with its rolling hills and traditional Ivatan houses. The stark landscapes here offer solitude and a deep connection with nature.
Baguio's Cool Retreat: Heading back south, stop in Baguio City, the summer capital, for its cool climate, strawberry fields, and vibrant art scene.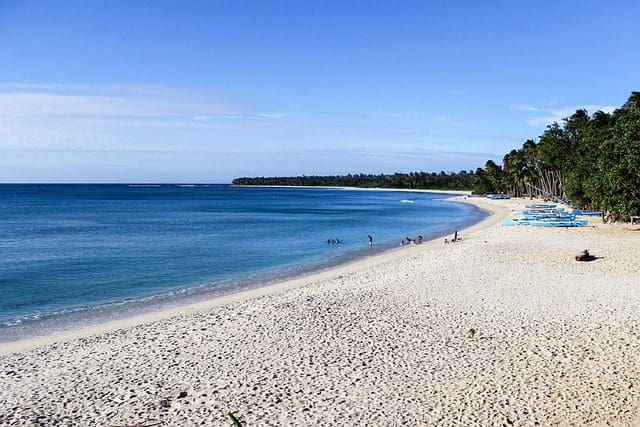 The Diver's Paradise Package
Duration: 10 Days
For underwater enthusiasts, the Philippines is a world-class diving destination, with this package focusing on the Coral Triangle's hotspots.
Anilao's Macro Marvels: Starting in Anilao, a muck diving paradise, spot the tiniest of sea creatures in their vivid habitats.
Tubbataha Reefs Natural Park: A flight to Palawan and a liveaboard vessel transports you to the UNESCO-listed Tubbataha Reefs for some of the best diving in the world.
Apo Reef and Island: Next, explore Apo Reef, the second-largest contiguous coral reef in the world, and its surrounding clear waters and diverse marine life.
Malapascua's Thresher Sharks: Finally, Malapascua Island beckons divers with its daily sightings of thresher sharks and beautiful coral gardens.
Crafting Your Philippines Adventure
Each of these best Philippines itinerary travel packages is more than a mere holiday; they are journeys that offer immersion into the heart and soul of this diverse country. Whether you're trekking through ancient rice terraces, diving in unspoiled coral gardens, or lazing on some of the world's best beaches, the Philippines has something for every traveler.
When planning your trip, consider the time of year, as the monsoon season can affect travel. Also, while English is widely spoken, learning a few phrases in Tagalog can enhance your interaction with locals.
Embracing Filipino Festivities
Duration: Varies
No travel package to the Philippines is complete without immersing oneself in the vibrant festivals that dot the Filipino calendar. Each province, city, and barrio has its own fiesta, often honoring the patron saint of agriculture and fishing, which are at the heart of Filipino livelihoods.
Sinulog Festival: If you time your visit in January, you can witness the Sinulog Festival in Cebu, a spectacle of dance, color, and religious devotion. The energetic street dances and elaborate costumes showcase the country's Spanish heritage and indigenous culture in a lively fusion.
Panagbenga Flower Festival: In February, Baguio City blooms with the Panagbenga Flower Festival. The cool climate city is awash with vibrant floats covered in flowers, street dancing, and garden exhibitions, celebrating the beauty of the region's flora.
Kadayawan Festival: Davao's Kadayawan Festival in August celebrates the bountiful harvests of fruits and orchids during the season. The city becomes a canvas displaying the region's artistic, cultural, and agricultural pride.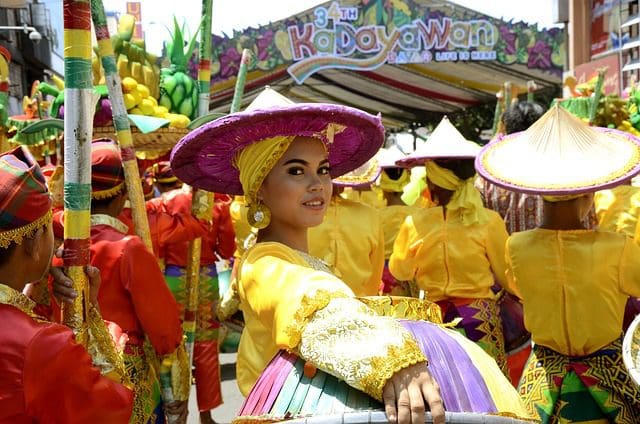 The Eco-Adventure Circuit
Duration: 9 Days
For those who seek to tread lightly and enjoy the pristine natural world, an eco-adventure circuit through the Philippines offers a chance to engage with nature responsibly and sustainably.
Palawan's Eco-Adventure: Begin with a visit to the Palawan Wildlife Rescue and Conservation Center and take part in community-based sustainable tours in Puerto Princesa.
Chocolate Hills Adventure Park: In Bohol, push your limits at the Chocolate Hills Adventure Park with eco-friendly activities like biking on a zip line over the iconic hills.
Negros Island's Natural Treasures: On Negros Island, visit the Mambukal Resort to trek through seven waterfalls and dip into its hot sulfur springs, a therapeutic encounter with nature.
Siargao's Mangrove Protection: Finally, contribute to nature by joining mangrove planting activities in Siargao, where the preservation of these vital ecosystems is a community effort.
This eco-adventure circuit not only offers an exhilarating experience but also educates travelers on the importance of conservation, adding a meaningful dimension to their journey.
Personalizing Your Philippines Experience
While the above packages offer a broad spectrum of what the Philippines has to offer, every traveler has unique interests and preferences. Personalized travel packages can cater to specific tastes, whether it's focusing on culinary tours, seeking out historical narratives, or finding the most secluded beaches for a retreat from the world.
Culinary Expeditions: For food enthusiasts, a travel package that focuses on regional cuisines, from the hearty stews of Luzon to the spicy Bicolano dishes, can be a mouthwatering adventure.
Historical Journeys: History buffs might opt for a travel package that includes visits to the many historical sites and museums, offering insights into the Philippines' colonial past and rich indigenous history.
Beach Hopper's Delight: Those who simply want to explore the endless array of beaches might enjoy a package that hops from one idyllic coast to another, offering opportunities to lounge, swim, snorkel, and repeat.
Ultimately, whether you choose one of these outlined travel packages or tailor one to your specific wanderlust, the Philippines promises a wealth of experiences that are as diverse as its islands. So, dive into planning your adventure and prepare for a journey that will enliven your senses and create memories to last a lifetime.
Conclusion
The Philippines is not just a destination but a myriad of experiences waiting to be discovered. From the northern highlands to the underwater treasures of the Coral Triangle, these five Philippines travel packages are curated to offer the best of this enchanting archipelago. So pack your bags, book your tickets, and set out on a Filipino adventure that promises to leave a lasting imprint on your traveler's soul.
Featured Image by giulianabencovich from Pixabay