New means of payment and new consumption patterns are only a few reasons why the HoReCa industry faces constant change. Let's see how this is happening.
Rapid technology changes in 2021
In the HoReCa (Hotel-Restaurant-Cafeteria) industry, everything is changing very quickly. Its players must face the challenges of everyday life – rent inflation, minimum wage increases, etc. – and prepare for the purchasing and consumption trends that will be all the rage tomorrow. Not to mention the worldwide pandemic crisis, of course!
At the same time, new sales channels are emerging and boosting sales. Delivery companies such as Deliveroo or Uber Eats have created new consumer needs, with their orders representing a big part of business income for some chains. It's fast and convenient, and therefore more and more people decide to order food using such platforms, especially during the COVID-19 crisis. As a result, these times are speeding up the already rapid changes happening in this industry.
The HoReCa sector is aware of the need to modernize and accelerate synergies with digital technologies and e-commerce. That's why we see more and more of our favorite chains or businesses offering online ordering systems. But what other technology caused changes can we observe?
To learn more about this topic, be sure to also check this article about changes in the HoReCa industry.
Ordering online
The development of technology has had a significant impact on many aspects of our lives, especially in terms of expanding our online activities. This also applies to businesses that are starting to look for customers online. A natural consequence is the emergence of platforms for ordering food from your favorite (or completely newly discovered) restaurant. This is especially important during the pandemic when many restaurants are closed. So this is a change that is currently being further driven by circumstances.
Restaurant kiosks
Another change that is starting to emerge in the HoReCa industry is the installation of digital kiosks. These are used to order goods or services, usually food, using a screen and a payment terminal. This is a quick and convenient solution that visualizes the food being ordered in an attractive way. It also gives the customers privacy and time to think. Overall, the kiosk can serve as a great marketing tool. Moreover, it is very safe during the pandemic as it helps people keep their distance during rush hours and reduces long checkout queues.
Social media marketing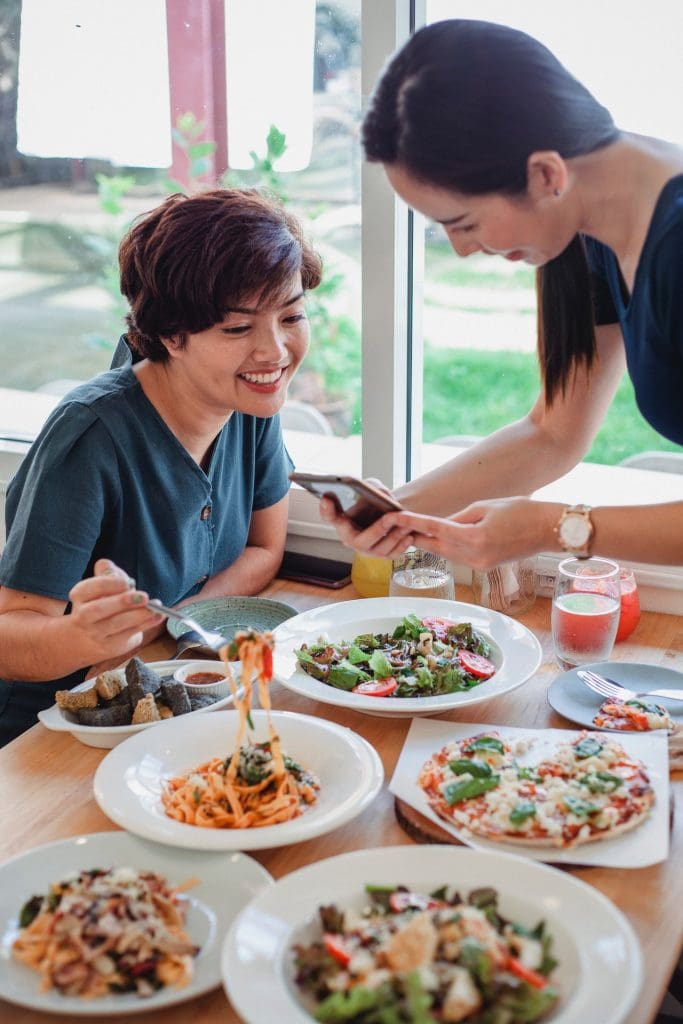 Social media is probably one of the biggest drivers of change in this industry. The first and primary way it serves these businesses is to provide a visual representation of appetizing food from restaurants and cafes. It was the aesthetic photos from Instagram that started the trend. Then, restaurants started setting up their own profiles on social media where they shared various kinds of information, published menus, and most importantly, also posted the best photos of their dishes. This is a very effective tool in promoting the services of any business, but especially in HoReCa. Nothing encourages people to go to a restaurant like nice pictures, a clear profile, and positive ratings. 
Faster service
Previous changes in the HoReCa industry have addressed specific phenomena, and now let's turn our attention to their effects. Both the ability to order online, the installation of digital kiosks, and the impact of social media have led to a restaurant experience that is simply much better. The process of ordering food both in a restaurant and online is faster and more efficient. Most importantly, customers increasingly know what they are ordering, even if it's their first time. Social media with photos of dishes and user reviews posted on Facebook and Google play a very helpful role. Ordering food online is also becoming faster and more convenient and is becoming a pleasant alternative after a busy day. The rapid development of the HoReCa industry in this regard is certainly one reason that more and more of us want to use such services, especially during this pandemic crisis, when we often prefer to stay home.
More fun
All of these changes also mean that the whole experience is simply more fun. Less waiting, more comfort, and clear and easy-to-understand policies: this all encourages us to order our favorite food and support restaurants during these hard times. These technological changes have a positive impact on all of us!
Featured Photo by Waldemar Brandt from Pexels