While at first glance, to decorate with balloons may seem more appropriate for a child's party than an adult's event, but that's simply not true. Not only do balloons come in a rainbow of shades that expand far beyond basic red, blue, yellow, and green, but they also can be arranged to give your event a wow factor. By choosing a sophisticated color palette and using one or more of these unique ideas to decorate with balloons, you can create a chic, unique, and magnifique event.
1. Doorway Frame Décor 
Doorways on their own are far too boring for a luxurious party. You could decorate them with flowers, beads, or sheer curtains, but how about something different?
If you want to make a statement to your guests from the moment they enter, let the balloons cascade in a glorious garland. Combine the balloons with flowers and bows and artificial leaves, or whatever suits your theme. You only get one first impression, so use yours to set the tone that this is an event to remember.
2. Sculptures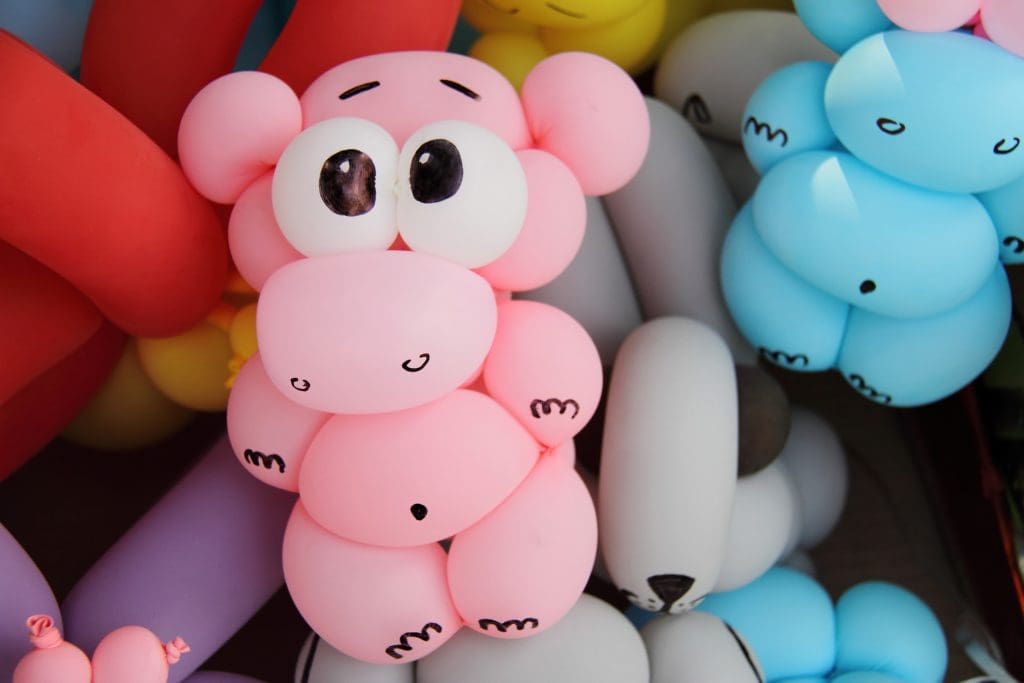 Almost everyone knows about balloon animals. But basic balloon animals are child's play. Instead, hire an expert to create some magical balloon sculptures for your event. 
Balloon sculptures, which fit in well with a birthday theme, are perfect for the adult who enjoys a bit of whimsy. For example, if the guest of honor loves the sea, a life-size mermaid with a tail crafted of glittering green balloons would be fitting. To create the maximum effect, including a life-sized sculpture in every corner that ties in with the overall theme.
3. Cake Decorations
Cake and balloons are two staples of celebration. What about balloons in place of candles on the cake? They can be edible balloons or real ones. Real balloons in place of candles could be incredibly unique. Instead of blowing out the candles, the guest of honor could pop the balloons.
4. Wrapped Balloons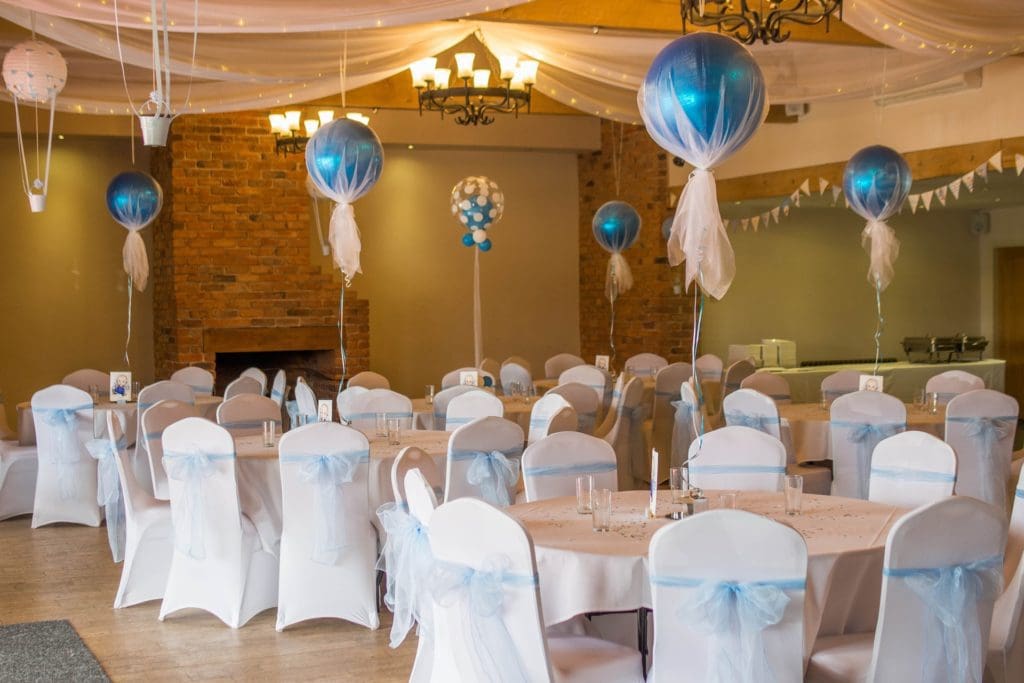 Your guests might not realize what these balloon decorations are at first, and that's kind of the point of uniqueness. Use enormous balloons wrapped in a lacy, chiffon material as a decoration in your party room. You could place them in the doorway or create a cascading display.
Choose wrapping material that reflects the theme of your party. And where you tie off the balloon, add more decorations. Flowers, streamers, glittering gems, big leaves — whatever fits in with your theme and the rest of your décor. For example, pearl accents on these wrapped balloons would look sensational at a bridal shower or wedding reception.
5. Balloon Train
This is a decoration less for a room and more for a photoshoot.
Wedding photoshoots can get so predictable sometimes. Why not jazz it up in a unique, yet elegant fashion and decorate with balloons? Balloons, the shade of the wedding dress, held in just the right position, can mimic a long train on a dress. Obviously, you're not fooling anyone. You're mesmerizing them with the grace and greatness of the image instead.
6. Balloon Rainbow
If you want a bright, unforgettable display at a lively event, a balloon rainbow is a fantastic way to go.
For an event punctuated by fun and playful things, shiny balloons in the colors and shape of the rainbow will be a blast, perhaps as an enormous arch through the middle of the room. At a more elegant affair, matte balloons in shades different from the typical rainbow colors will work just as well.
Pair little bunches of tiny balloons with enormous ones to form an eye-catching pattern of perfect balance. Set these displays afloat above your tables or at your head table, and nobody will be able to turn away.
7. Place Cards
A piece of paper with gold or silver calligraphy is a classic solution for place cards, but it's hardly unique. Instead, consider customized balloons in coordinating colors — or the guest's favorite color — as place cards.
You could get extra creative with it. Have the balloon as a fake flame of a candle, put it in an ice cream cone, or have it in a vase instead of a flower. Endless possibilities exist with this neat alternative to the traditional place card.
8. Floor Decorations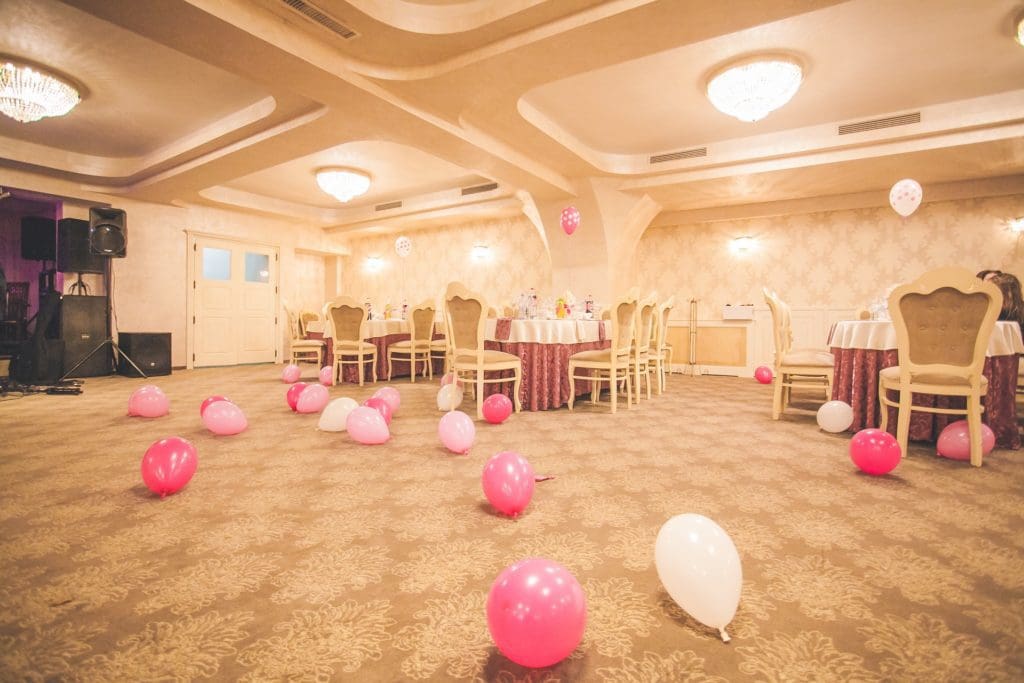 Helium-filled balloons strung high, or hitting the ceiling can create an amazing look. But regular air works too, and you can just allow the balloons to rest on the floor.
Little and large balloons strategically scattered look great — especially if they match the room's color scheme. Plus, this décor doubles as a fun distraction if there are any kids at your event. Rather than embracing the floor décor, children can play a game of "don't let the balloon touch the ground."
Try some of these unique ways to decorate with balloons and see the surprise in the eyes of your guests when they arrive, especially the children.
Featured Photo by Paola Vasquez from Pexels