The following post is from Kristina of Toddler Approved: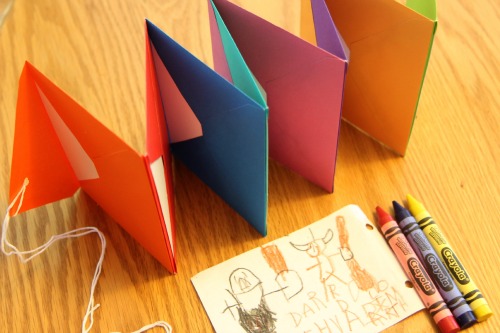 Bookmaking is a simple and fun way to get kids excited about reading and writing. When I was an elementary school teacher, bookmaking was always a favorite activity. I've recently started making books with my five year old, and he is now obsessed!
Simple accordion envelope books are an easy project for kids of all ages. They can also be turned into little gifts or cards for special people. Younger kids can just decorate or add stickers to the inserted pages and older kids can assemble the books and make mini books to go inside each pocket! Bookmaking can go on for hours or even days. You can also print on envelopes at your home, which can be exciting as well.
Supplies:
envelopes (I used 6 multicolored envelopes that were all the same size)
glue stick
hole punch
twine or ribbon
scissors
cardstock
markers/crayons
Directions:
Grab a bunch of envelopes and have the kids select which ones they want to use for their book. Make sure all of your envelopes are the same size. This is a fun way to practice patterning.
Using a glue stick, have the kids glue the envelope fold of one envelope to the backside of another envelope. Make sure all envelopes are lined up. Make the book as long as you want. When you are done, you should have one end that still has a triangle fold exposed, the rest should look like little pockets.
Once the envelopes are dry, fold them in accordion style so that every other one goes a different direction. The first envelope should be able to close and will end up being the cover of your book.
Hole punch the edge of the triangle fold on the first envelope. Loop a piece of ribbon or twine through the hole to create two ties. Close the book, wrap the ties around, knot them and you have a completed book!
We like to cut cardstock to go inside each envelope or make little books that fit perfectly. The littler the book, the more fun it is for older kids.
In addition to creating their own stories to go inside the pockets, kids could make an accordion envelope book for someone special. For a teacher gift, they could write special notes inside each pocket to share why they love their teacher. For a Father's Day gift, they could write down activities that they want to do with their dad.
If your kids enjoy this activity, here are a few other fun bookmaking activities for kids that we've tried:
Paper clip Journals via Imagination Soup
Paper bag Books via Toddler Approved
Simple Book from One Sheet of Paper via Lauren Stringer
Have you ever made books with your kids? 
Featured Image by photoAC from Pixabay
Kristina is a mom of 2 and a former Special Ed teacher for children with communication disabilities. She blogs at Toddler Approved as she looks for ways to make life a little more fun and creative with her kids while embedding learning into everything that she does. Kristina tweets as @ToddlerApproved and can be found on FB and Pinterest.