There are many benefits to having a well-organized kitchen. The more you organize your kitchen, the less time you'll waste looking for utensils or keeping the area around your drawers and cabinets clear of clutter. But what if that organization could come from design rather than constant cleaning? An organized kitchen involves more than just putting things away nicely. Having drawers and cabinets that are designed so that everything in them can be reached easily, that are designed to maximize storage space, and so that you move around the area quickly and efficiently are very important factors to having a functional kitchen. 
If you are in need of some design guidance, here are some top tips that will help you organize your kitchen better using your kitchen cabinets and drawers.
1. Choose a Slim Design
One of the best things you can do is to opt for a slim design. Custom kitchen cabinets are available in all sorts of shapes, sizes, and colors these days. If you have just moved into your new home or are looking to revamp your current kitchen, Avalon Property Management team suggests considering modern slim-line options that will free up some vital floor space. Almost all contemporary drawer systems include slim walls. They create much more space. Furthermore, most modern drawer systems include soft-close mechanisms and dovetail joints. These really add a lovely luxurious feel to opening and closing your drawers.
2. Try Shelves-within-Shelves and Pullout Drawers. 
A modern design method involves installing shelves-within-shelves in your kitchen cabinets. This is a particularly effective design when you have tall cabinets because it makes good use of the vertical space to house different items. 
You can also install pullout drawers or pullout shelving, which saves you the trouble of stepping into the kitchen and getting anything from a lower cabinet. These options add a surprising amount of space and efficiency to your drawers and shelves and thus make it much easier to properly organize your kitchen area. 
3. Go for a Mix of Open and Closed Storage
Some kitchens simply don't have the space to opt for cabinets with doors, which is why it's a good idea to use an open storage system that will give you easy access to all of your cooking essentials. If there are certain items that need more protection, then you can always use closed cabinets. This can be particularly useful with items that you use multiple times a day. In my case, it's my French press. I'm an unapologetic coffee addict. However, it's important to note that this can sometimes result in a cluttered look. So I tend to keep my use of open storage to a minimum. Furthermore, I tend to make sure anything I keep in open storage is easy on the eye and goes well with the overall design and feel of the room. 
4. Opt for Space-Saving Corner Shelves and a Lazy Suzan
If space in your kitchen is an issue, then you'll need to get creative when it comes to maximizing your storage space. A great way of doing this is by installing corner shelves above your cabinets. 
Whether you opt for wall-mounted floating shelves or brackets that sit on top of your existing cabinetry, the results are guaranteed to be stunning.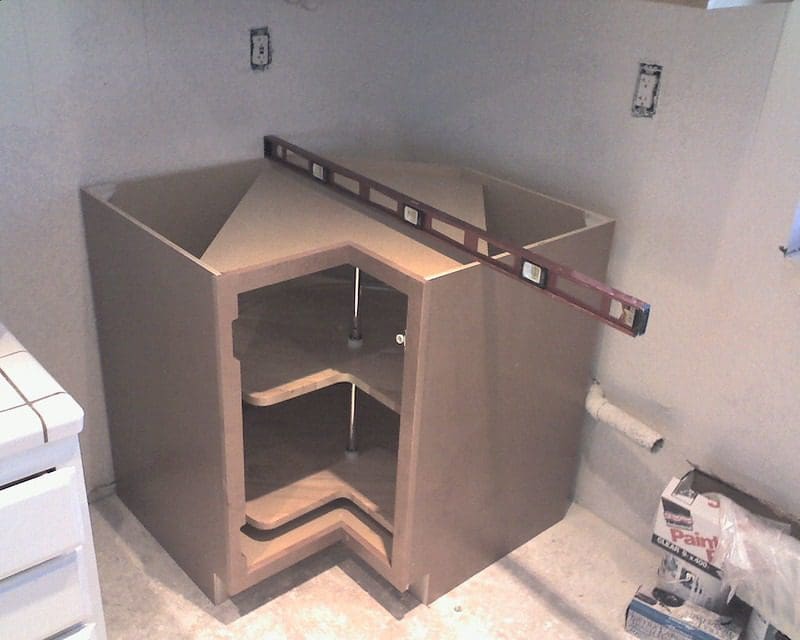 A Lazy Susan is also known as a turntable. The Lazy Susan is a circular platform that rotates on a set of bearings. It's often used for corner cabinets to maximize the efficiency of the corner space. It can be difficult to reach everything in a corner cabinet, and with the lazy Suzan, you simply place items on the rotating platform and turn it to reach the things in the back. 
5. Install Doors That Open Upward (Use a lift mechanism for upper cabinets) 
If you're tired of too many doors that open the wrong way, then it's time to start looking at your options. 
You can do several things, including changing the hinges and even opting for sliding doors over hinged ones. But one of the most beautiful solutions is to buy new kitchen cabinets with doors that open upward rather than outward. Lift systems were created to make moving within a kitchen a more seamless experience. When cabinets lift upward instead of out, they are not in your way, and you don't have to worry about hitting your head on the cabinet doors. 
They provide much more functionality and give your kitchen a contemporary style. You can reach items from your upper cabinets fast and with ease. With a lift mechanism, the cabinet doors move up and out of your way, all while staying put where you leave them. 
Upgrade Your Kitchen with Modern Manufacturing
If you are ready to bring your kitchen into the future, consider working with a design team to implement one – or all – of the above ideas. Depending on your tastes and budget, your designer can help you create the perfect kitchen layout!  Don't forget to select cabinet and drawer handles to match the decor. 
Featured Image by JamesDeMers from Pixabay