It's been one of those weeks, with too much to do and not enough time, and since we have so many new subscribers since this post was originally posted, I decided to go ahead and repost it today!
We've really just scratched the surface of our Maximizing Your Kitchen Space series, but today I wanted to invite you into my kitchen.
I really love my kitchen. It is probably my favorite room in our home because it's simple, pretty, and very functional. As is typical for most of our house, my number one priority was having a functional kitchen. Sean took my ideas and designed our custom kitchen with his modern style, and I love it!
This is my favorite feature of our kitchen. Before we even began building, I knew that I wanted an island (or, in this case, a "peninsula," as Sean calls it!) with the sink and cooktop separated by counter space. I am able to prepare and cook without feeling isolated from the family, and I can quickly put things in the sink or on the stove without having to walk across the room. When you are ready to find the perfect cabinets for your home. There are many types of quality cabinets, sienna rope cabinets are just one of many options.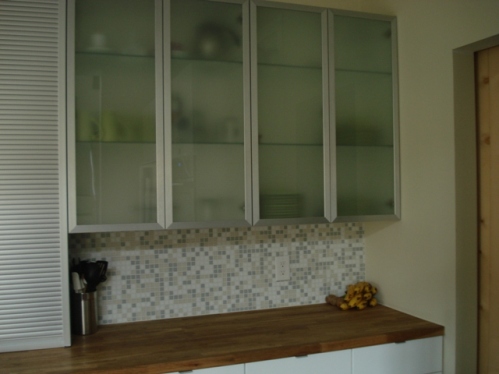 I also love these upper cabinets (with our lime green dishes from Target!) and their frosted glass doors. The frosted glass means I have to keep them neat and decluttered, and I think it also adds some added style to the kitchen.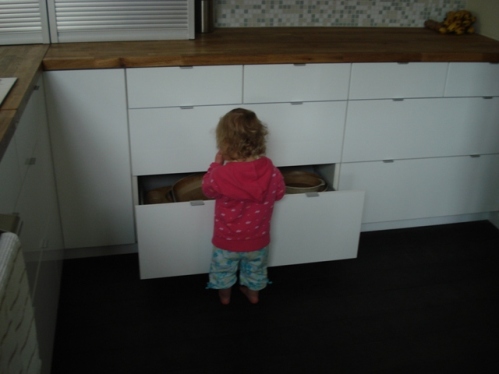 We actually only have two lower cabinets in our kitchen – one in the corner and one under the sink. The rest is made up of these large drawers, and I love them for storing my pots, pans, baking supplies, snacks, and more.
How cool is this cabinet?! We don't have a garage for our cars, so we refer to these two cabinets as "the garages." We keep office supplies, books, and recipes in one and small appliances in the second for convenience. This one also has an outlet in it to make those appliances even easier to use!
And finally, I love this extra-deep stainless steel double sink, which Sean found on eBay. It has square corners for even more space, and it's great for dishes and bathing babies and toddlers!
But I want to hear from you now – what is your favorite feature in your kitchen?