I started making these paper hearts last weekend, and my seven-year-old quickly joined in, making them as quickly as I had been and hanging them from the second window in our kitchen.
These are so fun and easy; you could use the paper hearts for window decor, garlands, mobiles, and more!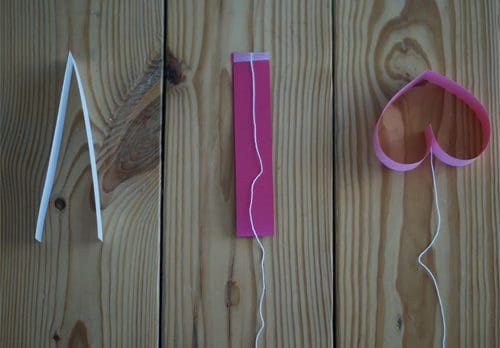 Supplies:
construction paper
scissors
paper cutter, optional (I like this one!)
string
tape
Directions:
Cut your construction paper into thin strips.
Fold each strip in half with a sharp crease.
Create a sticky loop with your tape (to make double-sided tape!) and tape the end of the string to the end of one strip.
Using the picture above as a guide, fold the end with the tape in toward the inside of the "v" in the strip. Fold the end of the other strip in as well. Carefully align the ends and press them together tightly.
The string should extend out of the top of the heart so that you can hang it.
Variations:
Use varying lengths or widths to make different-sized hearts.
Leave the string off and use a needle and thread to sew them together side by side (use a bead or pompom to help space them apart).
Check out these printable valentine cards.