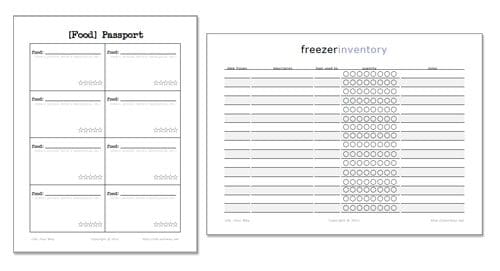 I've added two new printables to the collection, Freezer Inventory, and Food Passport, and I have to say that these may be my favorites yet!
Food Passport
I created the Food Passport to go along with a post I recently did over at Feels Like Home on empowering picky eaters. One of my goals this summer is to make trying new foods fun for our picky 5-year-old, and the passport as much for her as for you all! Your child can list each new food and either write a description or draw a picture of it and then give it one to five stars to keep track of the new foods they try.
Freezer Inventory
The second is a printable freezer inventory. Whether you prepare double batches, cook all of your meals once a month, or just stock your freezer when you find a great deal, the freezer inventory is a great way to keep track of what's in your freezer and make sure that nothing goes to waste.
I struggled with using other freezer inventories because they ask you to include the quantity. Well, if you make four batches of muffins, then you have to cross that number out and write 3 when you use one up. And then you have to cross it out again and write 2. And again. I found that that method really made my sheets messy and disorganized, so when I saw Jessica's method a couple of years ago, it really seemed like a better option.
To use this printable inventory, fill out the date, description, and use-by date. Then, instead of writing a number for the quantity, draw a smiley face or star in the correct number of circles. As you use each one, just make a big X over the circle/design to show that it's been used. Simple and neat, just the way I like it!
Download or Print
Download or print these new Freezer Inventory and Food Passport printables now:
Or get all of the Life Your Way printables in a single download when you buy the complete download pack for just $7! The complete set includes all printables published to date, organized by folder within a single download. It also includes free monthly email updates with any new or updated printables in a single download as well. Read more about download packs here.