As I was spring cleaning my craft supplies last week, one thing became very obvious: I have a tendency to overbuy for any new project. I get excited and jump in with both feet, buying everything I could possibly need…in bulk.
This weekend, I was planning to buy my seedlings, but I realized that I was doing the same thing. Rather than rushing to buy them when the garden isn't even ready, I stuck with the soil mix and decided to research layouts, planting times, etc. more before I buy the plants.
I bought peat moss, vermiculite and compost at Lowes and mixed them together to fill my garden box. Then, I marked the squares with string.
Based on the concern that some commenters shared on my original table top garden post that my plants would be too crowded — and the suggestion that others made to use a trellis across the back for the vine-growing veggies — I decided to go ahead and eliminate the winter squash for this year and just plant two squares of marigolds.
Then I used this very cool garden planner from Gardener's Supply Company, which also includes tips for growing each plant, and created this layout, which also shows how many plants you should plant per square: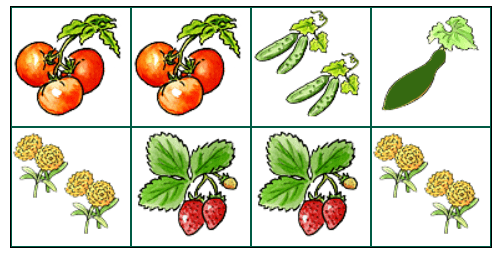 **I colored that there zucchini green because they only had a yellow squash
Tomatoes
Plant seeds 1/4″ deep indoors, six to eight weeks before last frost
Transplant into garden one to two weeks after last frost or when soil reaches 65 degrees F.
Spacing: one plant per sq. ft. Grow early season crops nearby to allow more room later.
Days to harvest: 55 to 100 days from transplanting, depending on variety. Not frost-hardy
Hint: Remove lower leaves before planting and bury extra stem.
Cucumbers
Plant seeds indoors 1/2″ deep three weeks before last frost, or seed in garden after frost.
Transplant into garden after frost and when soil is 65 to 70 degrees F.
Spacing one per sq. ft. for bush type; two per sq. ft. for vining type.
Extend harvest with a second crop, planted two weeks later.
Days to harvest: 50 to 60 days after transplanting. Not frost-hardy.
Hint: Use row covers until flowering to keep off insects.
Zucchini
Plant seeds 3/4″ deep indoors or outdoors three weeks after last frost, or when soil is 70 degrees F.
Transplant three weeks after last frost, or when soil is 70 degrees F.
When picked frequently, plants will produce continuously until frost.
Spacing: one plant per sq. ft. for bush varieties; two plants per sq. ft. for vining types growing on trellis.
Days to harvest: 30 to 40 days from transplant; 40 to 50 from seed. Not frost-hardy.
Hint: Start under garden fabric (row covers) to protect from insects.
Strawberries
**I'm a little confused by their recommendation of one per square because everything else I've read has recommended four per square.
Plant in very early spring as soon as the ground can be worked.
Space plants 12″ apart. Position carefully, keeping the crown of the plant even with the soil surface.
Everbearing cultivars will bear a more abundant crop if all flowers are removed until the end of June.
Provide 1″ of water per week. Keep soil mulched to retain moisture and protect fruit from rot.
Marigolds
Sow seeds directly in the ground in early spring.
Spacing: two plants per sq. ft.
Replant any time you have a little space in the garden. Fast-growing.
Days to bloom: 55 days from planting seeds
Hint: Pick off spent flowers to keep plant blooming.
This coming weekend, I'll probably add the trellis. I may also go ahead and buy the marigolds and strawberries and plant those, but I think it's still too early for the others since we had freezing temperatures last week. All in all, I like this slow-and-steady approach because I haven't spent a ton of money, and I'm not feeling overwhelmed or rushed!
Are you growing a vegetable garden this year? What are you planting?